Tamil Nadu Citizen Pulse on Governance
As requested, attached graphic is the result of the two polls conducted in circle.
You are welcome to share the same with tv, print, social media and other channels so the collective citizen pulse gets wider dissemination and reaches the decision makers, leaders, MLA and all others.
more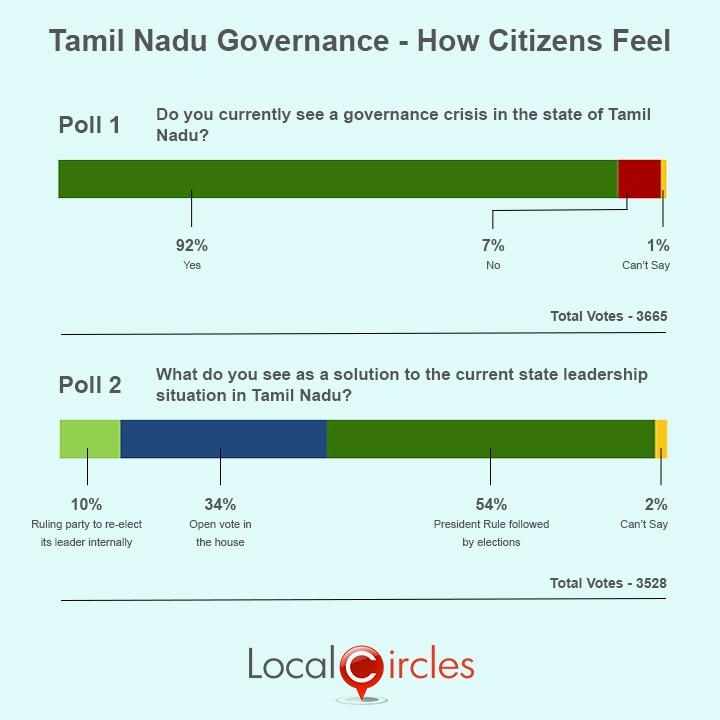 Closely watching the situation in Tamilnadu, it is envisaged that similar situation in plenty will occur in all the states given the present regulations of the tenure of the public elected representative (MP, MLA, MC etc) as per the Indian Constitution. In order to avoid such recurrence, the elected public of each constituency shall be vested with the right to recall the public elected representative from his post for known blatant violation of laws, incompetency, corruption, etc.
more
It is high time voting of CM is done by the elected members at the floor without having confusions
more
We have to force each MLA in his area to vote for betterment of the general public and not for himself. In case he is not coming to terms he should be asked submit his resignation immediately which the Public should send it to the Governor and other offical stations. We have to take a lead and then only we can mend the ways of our politicians. No use of re election etc. Lot of money has been spent for the elections and they are playing foul with the help of the loop holes in the constitutional rules.
more
All these problems are created due to the Election Commission not enforcing Democratic Internal Elections in all Political Parties. Why should the people bear the burden of elections and the elected representatives who are not even qualified to be a clerk?
more
Either present set up under CM OPS is to continue as he is doing better after the demise of ex.CM JJ or better under Full Time Governor rule for sometime till conduct of fresh election. Because people voted for ex-CM JJ only. MLAs under the control of Sasikala are protecting their own interest than the interest of people of their constituency.
more