Land conversions - for industries and non-farmers
The government has been doing reasonably well in containing the spread of the virus and also in unlocking services slowly. However 2 areas of concern - nothing has been said about the lake pollution and the other is the acts on the land conversions. In the land conversions, farming land can be bought for industries and farmers can sell their land to non-farming people (presumably for farming activities??). And if the officers do not approve the conversion within 15 days, then it is deemed to be approved. Essentially, there is no accountability from the government side. This would be disastrous for the already fragile environment and agriculture.
more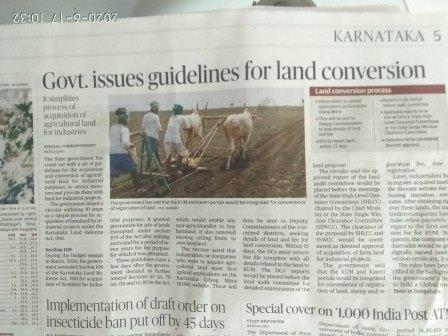 This will increase conversion of black to white..let govt tell how many thousands technic are interested in going for profession maybe under Garboldisham techies politicians and Govt servants both majority corrupt entities will convert their ill-gotten black booty ..all of them wants to escape TAX NET BY showing Agricultural income..Let Govt issue Notification how much land is there as LAND BANK ..This move has to be opposed tooth and nail .A HIGHLY RETROGRADE STEP
more
Government should exclude wet irrigated lands in the proposed changes
more
The land conversion rule is disastrous for the farmers and all those who have black money(mainly politicians and officials who takes bribes in different departments will purchase the land and convert fertile land to cemented land..What has prompted Karnataka CM to issue such orders...Will he take responsibility in future for such mis use. Government should not allow conversion from agri to Non agriculture use under any circumstances.....AND also during such transaction,it should be notified to income tax department about the source of income under intimation to anti corruption wing and high court of the state and the deal should be thru cheque only.
more
There is another side to consider. 1. Why do we want to keep agricultural activity, in its present form to remain static and leave the farming families totally dependent on forces that are basically exploitative (not in bad sense) for their own growth? 2. Why would we want to deprive the families dependent on agriculture at the mercy of government declared support mechanisms, that often do not really address the problems of growing family members of farming communities? 3. How do you address the problems of growing agriculture based families from moving to urban areas unless we can offer them opportunities to involve themselves in worthwhile self sustaining economic activities in the rural landscapes itself? Most small land owners would happily shift from unsustainable agriculture practices, either for want of resources, land holding, natural vagaries etc. to some activity that gives them an avenue to better their and their family's future and economic stability. 4. How does one improve economic status of a population without introducing new opportunities and technologies which essentially means fresh investments? And how does one assure this without industrial activity, even if it be agri based? And how does industry come in without land being available to them? As long as the ground rules for conversion of agricultural land does not curtail, impinge or deny the right of the farmer land holder to get a handsome return for his property and he is reasonably assured of a livelihood thereof, why would we not want to conversion of land from a lesser economic return to a higher yielding one?
Just another point of view.
more
Dear Sir / Madam, Greetings from Creative Tours and Travels India Pvt. Ltd !! please find below my new ID and request you to update your address book accordingly . meera@flycreative.in I regret the inconvenience caused to you. please send all future emails accordingly. Thanks & Regards, Creative Group
more