BJP Advertisements
Who is paying for all these ads?
If BJP or Congress are elected, would they be loyal to you or to the person/company paying for all these front page ads?
Think. Question. Share.
||
कौन कर रहा है भाजपा और कांग्रेस के विज्ञापनों पर खर्चा ?
अगर भाजपा और कांग्रेस में से किसी की सरकार बनेगी, तो क्या वो सरकार आपके लिए काम करेगी या उन लोगों के लिए जिन्होंने इस चुनाव में भाजपा और कांग्रेस के लिए खर्चा किया है ?
सोचें।
more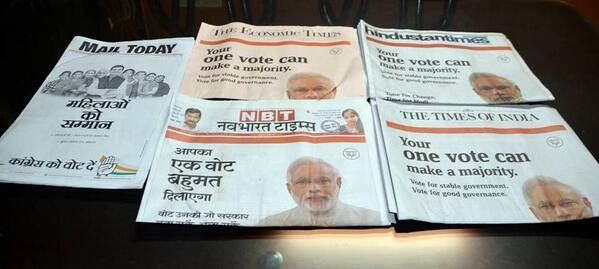 Amitji, I agree with you that he is obsessed with power and will keep hurting AAP.
more
Vijay ji .. Do u think he would ever do that? He is a power hungry man.. Who can do anything to get power
more
Mr. Amit, Our AAP started with a noble cause. Unfortunately it is loosing its appeal very fast due to very unreasonable attitude of its founder Arvind Kejrival towards all other parties. In my opinion Arvind should step down and let someone with level headed attitude take over.
more
AAP is even more dangerous to India than Congress or BJP coz of their arrogance , self- righteousness. Anyone speaking against AAP is termed as corrupt or a Modi / Rahul agent. Kejriwal has lost all his credibility. Intolerance, anarchy, cynicism, hypocrisy to d core.. Everything will be answered on may 16th
more
Dont be victim of such rumours find the facts your self
more