Why Dhyanchand, Vishwanathan Anand,Leander Paes cannot get Bharat Ratna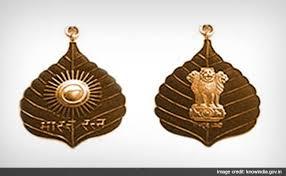 Why Dhyan Chand, Vishwanathan Anand, Leander Paes cannot get Bharat Ratna
Dhyan Chand
- Through his magical skills, the wizard as he was known, won three Golds in Hockey from Olympics during 1928, 1932 & 1936 for India (Then under British Indian Flag). After India became champion 1936, Hitler offered citizenship & post of Colonel in Germany which he declined. In 1940 & 1944 no Olympics were held due to WW-II. He retired in 1948 scoring 400 career goals. 29th August is celebrated as National Sports Day.
- Neither he endorsed any product nor promoted any product through modelling (This concept was not there in India then).
- No sponsors were available from big companies. Few Hockey loving Rajas/Jamindars sponsored participation in Olympics. It was reported that when Indian Hockey team left for Berlin Olympics in 1936, only three persons were in the jetty to sea them off.
- All India Hockey Federation (Now Hockey India) have year wise profit statement as follows: FY2010---Rs.58.7Lacs; FY2011---Rs.14.7Lacs; FY2012----Loss of 200Lacs; FY2013---371Lacs; FY2014---785Lacs.
- He did not lobby through any political party for national honours.
Vishwanathan Anand
- First Grand Master (1988) from India; he held FIDE world chess champion position from 2000 to 2002 and from 2007 to 2013-1st Asian to achieve the feat. His feat has influenced young generation so much that we have 64 (sixtyfour) Grandmasters in India now.
- He has endorsed and appeared as model for NIIT, TVH, AMD, Parle-G, Milkshakti, Vidyasagar, the last one for free.
- All India Chess Federation have year wise profit statement as follows: FY2011---236Lacs; FY2012---330Lacs; FY2013---342Lacs; FY2014---379Lacs; FY2015---402Lacs; FY2016---485Lacs; FY2017---644Lacs; FY2018---752Lacs.
- He did not lobby through any political party for national honours.

Leander Paes
- He has won 8 (eight) Doubles and 10 (Ten) Mixed Doubles Grand Slam Titles; achieved the rare men's doubles and mixed doubles at Wimbledon in 1999. He won a bronze medal for India in singles in the 1996 Atlanta Olympic Games. He competed in consecutive Olympics from 1992 to 2016, making him the first Indian and only tennis player to compete at seven Olympic Games.
- He has endorsed Adidas and J.Hampstead.
- All India Tennis Association is running at loss since FY2013.
- He did not lobby through any political party for national honours.
Sachin Tendulkar
- From 1989 to 2013 he scored 34357 runs in 664 international cricket matches; 100 centuries
in Test & ODI; first player to score 200 runs in ODI; first to score 10000 runs in ODI; part of
the World Cup winning team of 2011. During last two years 2012 & 2013 he played 15 test matches scoring 633 runs with 4 fifties only. It is rumoured that sponsoring companies influenced BCCI to let him achieve 200 test match milestone.


- Endorsement: Pepsi; Colgate-Palmolive; ESPN-STAR Sports; MRF; Boost; TVS, Palio(Car); Visa; Britannia; Airtel.
- BCCI Surplus fund statement year wise as follows: FY2010---28688Lacs; FY2011---25923Lacs; FY2012---22073Lacs; FY2013---36428Lacs; Fy2014---22080Lacs; FY2015---52857Lacs.
- He was nominated to the Rajyasabha in 2012 by Congress party. On his last test match in 2013, Mr Rahul Gandhi, while watching the match from the Wankhede stadium in Mumbai, phoned the then President of India, Sri Pranab Mukherjee and the file was cleared to confer him Bharat Ratna, only one from the sports field to have received the highest honour.

Dhanchand & Sachin Tendulkar represented team sport, Leander Paes is in team of two players(maximum) only and played singles also, Vishwanathan Anand is alone. When Prakash Padukone won All England Badminton Championship, our first international quality great player Sunil Gavaskar had written in a sports magazine, how Prakash Padukone's achievement was far greater than that of players in team sport.
Conclusion: To get national honours, player have to have great achievement, big sponsors for self and sports body, lobby through political party in power.
The Petition was also marked to:
Kiren Rijiju

- myasoffice@gmail.com