How can India Clean at Night: Action Needed and Inputs
Our circle has been creating awareness about moving to Cleaning India at Night. Many of you have participated in these discussions. As Swachh Bharat campaign of the Prime Minister completes its 5th year, we would like to seek your inputs on whether your urban local body has moved to Cleaning at Night. Below is the compilation of your inputs on how India can clean at night and the factors that need to be considered. Kindly review and if you have additional inputs, please share. Also, you may want to share the same with your Municipal Commissioner/Mayor and urge them to take up this initiative.
How can India Clean at Night:
1.Municipal workers could be deployed in shifts like in other industries
2.Modern equipment should be bought to assist in increasing worker efficiency
3.Workers who do the night shift should be given special allowances
4.This process will also optimize utilization of collection resources, with faster collection and transfer
5.The home dustbins could just be kept outside the house at nights for the municipality to clear them
6.The process should be divided in two parts:
i.Cleaning group in Night Time (before 5 am)
ii. Observer & Inspection group inspection before 8.00 am Day time
7.If public reports garbage anywhere in city after 8.00 am then Observer & Inspection group should be held responsible
8.Night shifts should be on a rotational basis
9.Private companies could be hired to assist the Municipality at nights
10.There will be no traffic problems due to garbage collection trucks
11.Home cleaning could be conducted in the second half of the day between 1 pm - 8 pm and place garbage out at night.
12.Offices could clean post closure starting 7/8 pm and place garbage out by 10 pm.
Here are some things that will have to be considered in the implementation:
1.Non-availability of street lights at night in many places
2.Supervising and controlling the workers could be an issue
3.Attitude of officials - Resistance to a new process as it requires deviation from existing routine. Also, it involves night working for some workers
4.Attitude of people - Hard to adopt a new system. At present household garbage is taken away in the forenoon. In new system, garbage will go out at night
5.Households that employ individual part or full time help for cleaning will have to ensure that cleaner is able to adjust their schedule and work from 1-8 pm timings.
more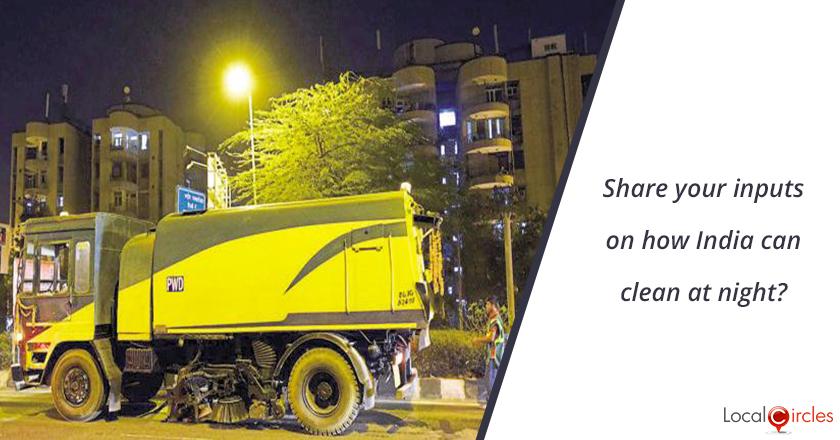 If we can work a 24/7 for companies in the western world, why can we not do the same for India? the PM says, population is an issue (should be controlled), but why not make use of this immense head count to improve the services in India, instead of cribbing. So, not only cleaning, but officials should also be vigilant 24/7 to impose penalties on those who dump garbage outside their buildings.
more
*Why Hindus Lag Behind In Kerala?*
By *Dr C I Issac,*
*A powerful field that can control society is Education.*
*At present, the education sector in Kerala is under the control of
minorities,*
*These minorities* are
Politically influential and
economically sound through the remittances made by
*(Non-Resident Keralites (NRKs).*
While *minorities run 3340 schools* in the state,
the entire *Hindu jatis are in possession of just 194 schools.*
*Muslim and Christian communities manage 223 arts and science colleges*
whereas all *Hindu jatis together manage only 42 colleges* (vide
'Matrubhumi' daily, September 28, 2002).
*Out of the 433 professional colleges,* only
86 are government-owned,
89 are Hindu-managed while
*258 are managed by the minorities* (G.K. Suresh Babu, 'Kesari Annual,
2004).
Though *all minorities are permitted to impart religious education in their
institutions,*
*this right is denied to Hindu institutions.*
Moreover, *Hindu students in minority institutions are forced to study
moral science,*
which infuse *anti-Hindu sentiments in them.*
*This is the best known Kerala model of secularist-democratic paradigm.*
*Why does it happen so?*
No doubt, the reason is that
*Hindus are economically and politically a marginalized group in Kerala.*
If the lessons in history of ancient civilizations were destroyed by
Semitic religions' invasion,
the situation is not very different for Hindus in Kerala.
*A major share of the state exchequer is spent on education.*
*The last 48 years reveal that only one Hindu minister handled the
portfolio of education and that, too for a period of four years and three
months.*
*Otherwise, for the rest of the period, this portfolio has been handled by
ministers belonging to only minority communities.*
*The minority ministers, who managed the portfolio of education, helped
only the minority community managements in an out-of the way manner.*
Lending a helping hand to minority institutions was similar for both, the
Right and the Left coalitions.
*Both coalitions still follow minority appeasement as their de facto
policy.*
*This will result in an alarming situation.*
*Of the state's 199,000 schoolteachers, the Hindu share (inclusive of
SCs/STs) is just 38 percent.*
According to the 1997 statistics, Kerala had *14200 college teachers of
whom 76 percent belonged to minority* communities (G. K. Suresh Babu).
*All these statistics show of an unorganized, demographically
ever-shrinking Hindu community of Kerala.*
*In health care also, the minorities have an upper hand.*
The Hindu community owns just ten hospitals against 928 belonging to the
minorities ('Matrubhumi').
Similarly, the
*Hindu share in the industry, agriculture and commerce is 28, 24 and 28
percent, respectively.*
At the same time, the Muslim share is 30, 23 and 40 percent and Christian
share is 35, 40 and 36 percent, respectively ('Matrubhumi').
*Like the Hindus of Kerala, no other community in the world is marginalized
as much.*
In several sectors, Hindus lag behind but
*In the case of suicides, hindus are leaders.*
Kerala's suicidal rate is above the national average; it is 30.5 for every
one lakh population.
A recent NGO study reveals that
*92 percent suicides were committed by Hindus.*
6.5 percent by Christians and
1.5 percent by Muslims.
*Insolvency is the main reason for the mass suicides in Kerala.*
The Kerala government's allotment of new self-financing professional
colleges has come as a rude shock to the marginalized Hindus of Kerala.
*Due to the economic backwardness of the Hindus, it is difficult to compete
with the minority communities* for starting professional colleges.
*The result will be that those socially and economically backwards in the
Hindu society will be kicked out of competition.*
In medical education field alone, the Hindus will lose 250 seats every
year.
The Hindus coming in the purview of reservation will lose 3800 engineering
seats and 100 MBBS seats every year.
After two decades, in the SC/ST section alone, there will be a shortage of
74000 engineers and 2000 doctors at the present rate.
*Education and economic progress are closely linked with Kerala life.*
Therefore, any imbalance arising in the educational field will be reflected
a hundred times in the economic scenario.
In the near future, because of educational backwardness alone,
*Hindus will be forced to live on the periphery of society.*
In the democratic process, votes are decisive factors.
No doubt, the numerically ever-shrinking *Hindus will lose relevance in the
political structure of Kerala in the near future.*
Since Independence, for every decade, the *Hindu population in Kerala has
been falling* at the rate of more than 1 percent.
If this trend continues, within three decades,
*Hindus will lose their majority statues in the state.*
At present, technically the Hindus are the majority community.
But *the minority religious groups have a clear sway over the political,
economic and educational fields of Kerala.*
It is no wonder that *Hindus of Kerala, who are destined to be minority in
the near future, will be thrown out of all fields of socio-economic
activities.*
*This will be a great tragedy for Hindus.*
In 1947, Muslims in India were a minority community. They were 24 percent.
But even that marginal strength of the Muslims led to the division of
India.
Today, Nagaland and Mizoram have turned into Christian-majority states.
In these states, discontent and insurgency, along with divisive tendencies,
have surfaced.
To a large section of the Christian brethren, the Hindus have become an
indigestive element in the northeast.
*If so, what will be the history of Kerala after three decades?*
(By Dr C.I. Issac, Head of the PG Department of History, CMS College,
Kottayam, Kerala.)
*Oh God! Save our Hindus in Kerala !!*
🙏
On Fri, 20 Sep 2019, 07:41 LocalCircles Manager, <
support@localcirclesmail.com
> wrote:
>
more
Proposal is Good but 1)Worker's Unions have to agree to do this.2)During night most of the road is parked with cars and other vehicles with the result road sweeping will be difficult.3)Also noise from trucks and the foul smell will disturb sleep of the citizens.4)Reptiles and other animals may also create problems as they can not be noticed easily in the dark.They can bite the sweeping staff.5)Even keeping dust bins out at night will be difficult as most of the servants will be available in day only.If any bins are toppled then it will be hinderence to traffic movement.
more
The LCM for Clean India must have reasons for bringing up this subject repeatedly on this platform. Well, despite the 207 contributions by members of the Circle, I would like to summarise my views as under:
1. Nothing tangible appears to have been achieved over the past five years, which could be flagged as "success".
2. Local authorities/agencies show activity specially before forthcoming elections, viz. in Delhi.
3. The layman in our country yet seems to consider as below their dignity to keep their surroundings clean. I live in Delhi and I notice that streets are littered every day with the same infection as on the previous day.
4. Today, we have the technology to reach out to the masses through the medium of television. LC to please encourage political leaders to show their faces more often on the TV and to propagate and plead the public at large to help make the "swatch bharat abhiyan" a success.
more
Not significant and when the truck comes, its very noisy and wakes up the people.
more