Hallmarking to become mandatory
Many of you participated in the Trust in the Jeweler Survey earlier this year. Attached please find the summary of the survey. We are please to inform that the Government has accepted your recommendation and Hallmarking is being made mandatory from December 15th, 2019. Below is the full survey report:
Gold Hallmarking Survey
more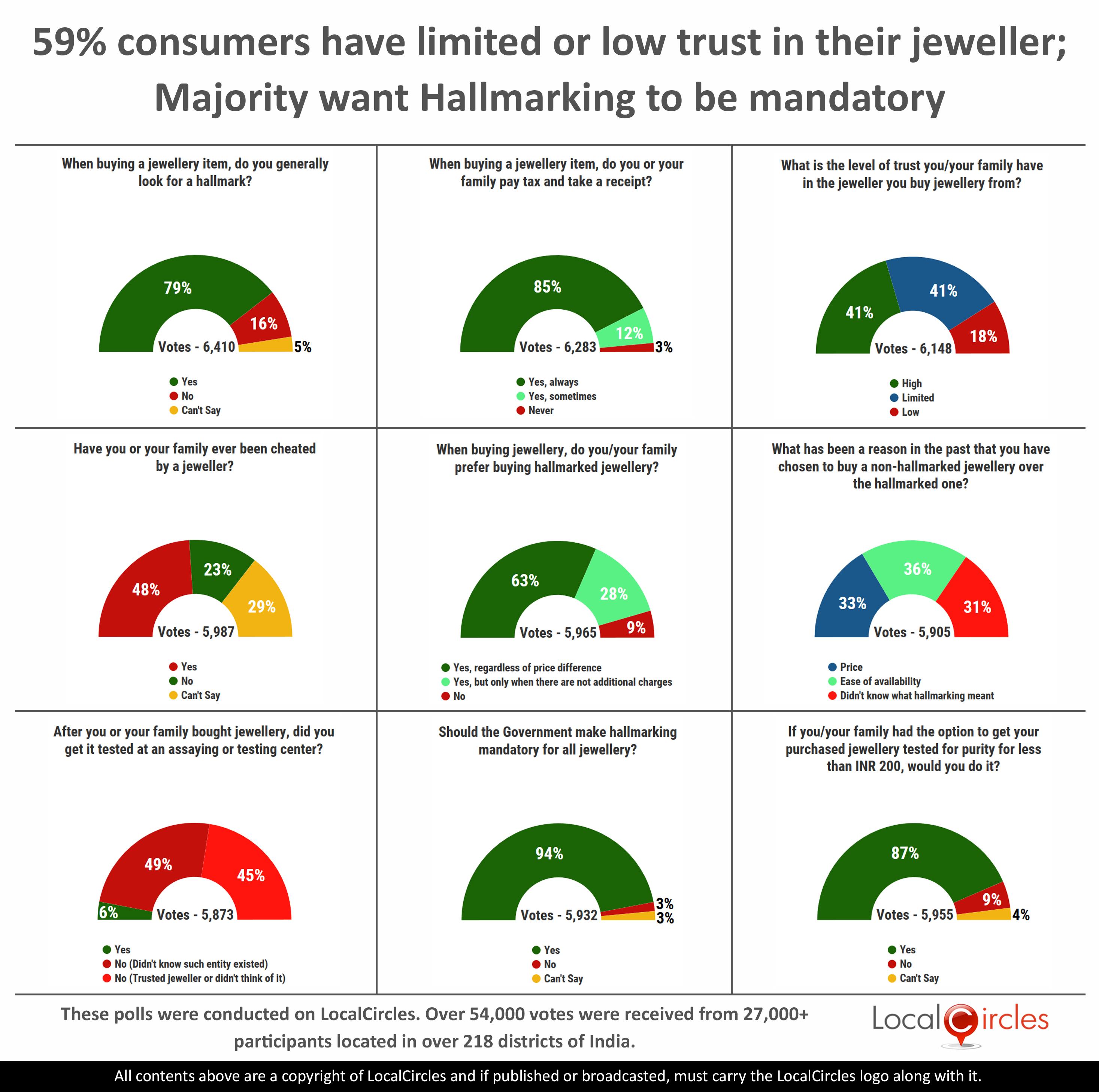 Sir the world has reached out to the certificate of Originality when buying jewellery or gems stones specifying the details of items bought, it's date of purchase, it's quality in terms of karats, it's weight if applicable, it's warranty, it's after sales service terms & conditions etc and that too I believe is a consumer right. On one hand we believe we are the most advanced country amongst leading ones by reaching Mars and Moon but on the other hand we are still far behind in the race of competition with others. Which universe we are living in is still a doubt and confusion for me to conclude.
more
Customers are duped in ever shop every where. In Ranebennur of Haveri dist, only 20 karat jewelry is sold. No hall Mark not even 22 karat in all shoos
more
It should be made mandatory for all the genuine product.
more
Sushmita Saha, Content Developer (2016-present) Answered Feb 6, 2018
Originally Answered: What do hallmark, 916 and KDM jewellery mean ?
Hallmark- The Hallmark stamp ensures the purity of gold and diamond jewellery. The hallmark stamp is implied to 23KT, 22Kt, 21KT and 18 KT gold and diamond jewellery.
916- This stands for the finesse of gold jewellery - 22KT gold. It is a mixture of 91.6% gold per 100 gm and alloys. All the best possible designs in gold are made in 22KT as 24KT gold is too soft and malleable to make jewellery.
KDM Jewellery- KDM means cadmium mixed with gold to make jewellery. Cadmium began to be used in place of copper. The advantage being that unlike the traditional gold & copper solder, gold and cadmium can be mixed in a ratio of 92% + 8%. This ensured the finesse of jewel remains constant regardless of the amount of solder used. Such jewellery using cadmium began to be widely known as KDM jewellery. But it causes health issues for artisans, and so it is banned.
more
Hallmark is an interpretation - to expect a certain purity. As per law or understanding, this is subject to interpretation.
Hallmark must be made by spirit, not interpretation of the standard / law.
I know of any number of jewelry manufacturers that produce 18 carat jewelry and put hallmark seal. It is cheating and day light robbery.
If you want good quality, buy from Tanishq or C. Krishnaiah Chetty.. See link:
https://en.wikipedia.org/wiki/BIS_hallmark
It is impossible to check if 1 lakh gold chains are really 22 carat gold, everyday..
more