What Chinese products are being dumped in India?
We have received some member complaints about large volumes of several products being dumped from China in India. With this post we seek your specific inputs on list of products that are being dumped. This is quite disruptive for Indian MSME and trade. Once inputs are received we will be escalating them to all arms of the Government who can help address this issue.
We look forward to your inputs!
more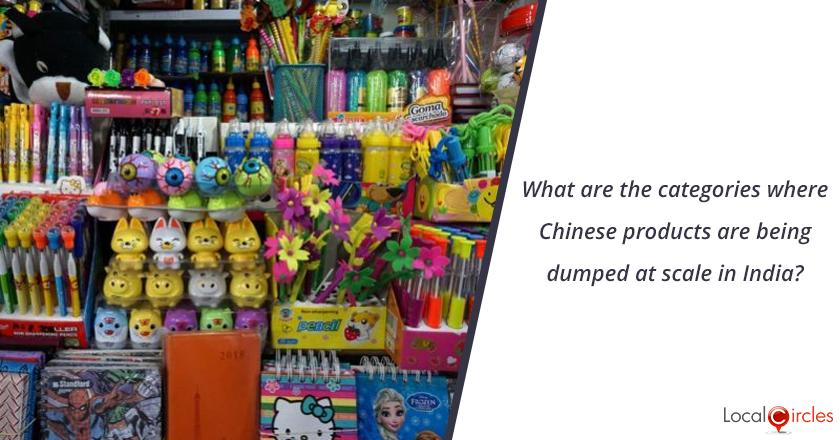 There are small handy tools found on banggood
web site which are not found in our Market but with these tools if our Industry gets boost then it may be useful to build up our Economy.
more
We are having so much trouble from Chinese across the border as well as their support to Pakistan and ofcourse activities detrimental to India. Don't understand Modi Govt.'s weak-kneed approach to China on both diplomatic & economy fronts. Why doesn't the Govt. ban imports from China.????? It will help our economy.
more
1. Mobiles assembled in India by foreign companies should be stamped on mobile as "Made in India'.
2. Electric goods /accessories of chinese companies must be have plug pins etc as per India's standard. Thin pins don't match with Indian sockets....Many other products are like that...
3. Many other cheaper products must be discouraged and MSME must get incentive to boost their quality to match international standard...
4. The garment industry of India must the incentivised for producing products matching chinese garments
5. Our Industries must study the foreign products prepare themselves to beat the chinese competition.
The attraction to chinese garments will go away if matching Indian products are available in the market at matching prices.....
more
!!! Be Indian !!!
!!! Make in India !!!
!!! Buy in Indian !!!
more
This is the QUOTE OF GANDHIJI TOO. But Rule from 1950 set aside
more
Variety of products from China are dumped in Indian Markets which, if monitered, can easily be identified. Import tariff must be hiked to support MSME industries which will help PM's mission of "Make in India" to be successful. Besides, subsidies must be given to sustain for mass production to counter dumping of Chinese goods here.
more