OLX quikr frauds
A lot of consumer frauds are taking place every day on olx and quikr
Fraudsters pose as buyers and reach out to sellers and then send them a link saying they are doing an e-wallet transfer. When the sellers clicks on these links money is debited from their accounts instead of being credited.
These sites and apps are clueless and not doing anything about these.
Govt must step in and such platforms must be brought under ecommerce or IT policy.
more
When selling on OLX sell in cash. Never call their phones. Let them contact you. You chat thru OLX. Sell the item across the table in CASH.....
more
Plus Policy who makes ? recent example JET AIRWAYS GOING BUST IN 1994 or even before no one could even imagine this - wrong GOI policies ?
more
Question Do you really think the Govt is really bothered about its citizens ? a link in itself is not the right way ? apps just take your info to misuse / ATM wrongs everyone knows now ? cash and across the table transactions are any day better ? we are heading back the old check way seems so ? plus the reality is they want customers to do all the work without being paid the salary to do it nor teach the customer in proper physical class rooms - its their interests only in short its a money making racket only and online is a way to trap more than anything else ?
more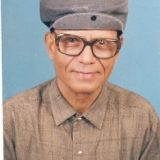 Thanks for your email. In reply, please read and find answers
*A most interesting book every library should have and all must read.
Author has lived in Canada. Canada and Marshall McLuhan figure a lot in the
book. 'Machine shall do for man what Man could not do for himself'.It is no
mere utopia. May happen anytime a la McLuhan! A trenchant satire on
Western-style democracy as it prevails in India today.Fact and fiction
entwine and abrase to sharpen the edge of satire.Regards,Dr.Usha Sharma*
*The+Prime+Minister+and+His+Robot+Wife&i=stripbooks-intl-ship&ref=nb_sb_noss
<
https://www.amazon.com/s?k=The+Prime+Minister+and+His+Robot+Wife&i=stripbooks-intl-ship&ref=nb_sb_noss
>*
*Click Above*
*Kindle &Paperback Editions at Amazon.com*
*[image: The Prime Minister and His Robot Wife] *
On Fri, May 17, 2019 at 4:19 PM Shivani Khiste <
connect@localcircles.info
>
wrote:
>
more