An AGE WISE GUIDE LINE for BLOOD PRESSURE :
W e need a guide line and a constant watch on out B.P.particularly when we are leading a fast & busy life and over 45/50 , without exercise and no control over diet .
more can you please quote the source ? Is it only pharma statistics ?
more
What about 'above 64' ?
more
Good information and guideline.
more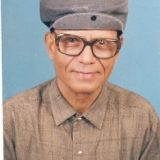 Thanks for your email. Health is important so also
*A most interesting book every library should have and all must read.
Author has lived in Canada. Canada and Marshall McLuhan figure a lot in the
book. 'Machine shall do for man what Man could not do for himself'.It is no
mere utopia. May happen anytime a la McLuhan! A trenchant satire on
Western-style democracy as it prevails in India today.Fact and fiction
entwine and abrase to sharpen the edge of satire.Regards,Dr.Usha Sharma*
*The+Prime+Minister+and+His+Robot+Wife&i=stripbooks-intl-ship&ref=nb_sb_noss
<
https://www.amazon.com/s?k=The+Prime+Minister+and+His+Robot+Wife&i=stripbooks-intl-ship&ref=nb_sb_noss
>*
*Click Above*
*Kindle &Paperback Editions at Amazon.com*
*[image: The Prime Minister and His Robot Wife] *
On Thu, May 23, 2019 at 11:58 PM Jayakumar Daniel <
support@localcirclesmail.com
> wrote:
>
more