Citizen Assessment of 1 year of UP Government
19th March 2018, New Delhi: The BJP came into power in Uttar Pradesh exactly year back with a lot of expectation and a very solid mandate. When Yogi Adityanath's name was announced as Chief Minister, many eyebrows were raised on this choice. He quickly announced farmer loan waivers, illegal slaughterhouse ban, clampdown on VIP culture etc.
As the UP government completes one year in office, LocalCircles conducted a large survey among approximately 100,000 residents of UP to understand how they feel about the work done by the CM and his team. The survey consisted of 11 polls and received close to 45,000 votes.
The first question asked residents of Uttar Pradesh keeping affordability and availability in mind, how do the rate the improvement in power supply in their area in the last 1 year. 46% said there was significant improvement and 33% said there was some improvement. 14% said there was no improvement at all, while 7% said the power situation had gotten worse.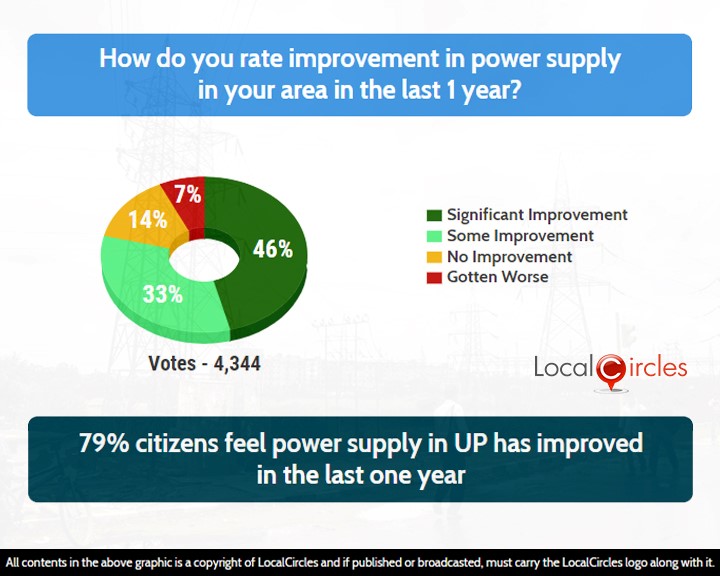 Second question asked keeping quality and accessibility in mind, how do they rate the municipal and civic services in their area in the last 1 year. 16% said there has been significant improvement, 39% said there was some improvement, 38% said no improvement and 7% said it had gotten worse.
Third question asked UP residents how they rated improvements in healthcare services in the last 1 year, keeping quality, affordability and accessibility in mind. 13% said there was significant improvement and 30% said there was at least some improvement. 50% said there was no improvement at all and 8% said it had become worse.
Last year's incident in BRD Medical College in Gorakhpur shook not just UP but the entire country. More than 60 children, mostly infants, had died at the hospital within a week in August 2017 due to a disruption in oxygen supply over unpaid bills to the vendor. Incidents like these are raising questions on state government's understanding of issues with the state healthcare system and its intent to fix them.
In the next question, 40% residents said that there has been no reduction in corruption in local state government offices while 12% said corruption has actually increased in the last 1 year. 8% said there has been significant reduction in corruption while 40% said there has been some reduction.
This shows that 52% citizens believe that corruption has not reduced in the last one year, although the state government had announced that it will launch inquiries into projects like the Gomti River Front project, the Agra-Lucknow Expressway, construction of Lohia Path in Lucknow etc. which were cleared by previous governments. According to citizens, transactional level corruption is still the same but atleast large scale corruption is not evident.
Following question asked how people rated the improvement in availability of new jobs and livelihood opportunities as a result of state government's efforts. 21% said there was significant improvement, 46% said there was some improvement and 33% said there was no progress. Mass-new job creation has not happened in UP in the last year and many government recruitment exams were cancelled, leaving candidates in lurch. In addition, with the closure of illegal slaughterhouses, many were forced to look for alternate livelihoods.
On the question of ease of doing business in Uttar Pradesh, 58% said there is some improvement compared to last year and 16% said there is significant improvement. 21% said there is no improvement and 5% said it has become worse.
UP recently launched a single-window clearance system to cut through the red-tapism of starting a business in UP. In the Investor's summit that took place in February, the state government had signed 1,045 memorandums of understanding (MoUs), worth Rs. 4.28 lakh crore, saying that these would generate more than 33 lakh jobs in the state.
Timely delivery of flats has been a big issue over the years, especially in Noida and Greater Noida. 22% UP residents said that there was significant improvement in delivery of long pending flats by builders and implementation of RERA in the last 1 year. 28% said there was some improvement, 44% said there was no improvement and 6% said situation had worsened.
Citizens are split equal on whether there has been an improvement in delivery of pending flats and RERA implementation. Yogi Adityanath had issued a stern warning to real estate developers and warned them against cheating home buyers. UP became the fourth state in India to launch a RERA (Real Estate Regulatory Authority) website and got more than 200 developers to register on it. Although Yogi government had junked rules framed under the Akhilesh Yadav government as they were allegedly tailor-made to favour the builders, not much respite has come the home buyer's way, especially the ones who had purchased flats before 1st May 2017 when RERA became effective.
53% also said there was no improvement in the regulation of excessive fee increase by schools in the last year, whereas 6% said it had worsened. 12% said there has been significant improvement and 27% said there has been some improvement.
Parents across UP have been protesting against insane fee hikes by private schools for the last 5 years. The introduction of Uttar Pradesh Self-Financed Independent Schools (Regulation of Fees) Bill 2017 was a move welcomed by them but they feel it lacks clarity and transparency as it has loopholes which schools can use to charge, let's say an 'annual fee'. Parents have also raised concerns that the state committees for fee monitoring cannot have school promoters as there is a direct conflict of interest. Some other parents have raised concerns that UP should not replicate the Gujarat school fee regulation bill which caps absolute fee rather than absolute fee hike. Parents in UP want State Government to ensure that the annual fee hike is capped or tied to inflation so parents can afford the fee increases.
Crime against women and children in Uttar Pradesh has been a major talking point over the years. 25% residents said that the rate reduction in crimes against women and children in the last one year has been significant and 30% said improvement has been minimal. 36% said there has been no improvement and 9% said situation has become worse.
Adityanath had formed an anti-romeo squad soon after he came to power. The aim was to curb the incidents of eve-teasing, public attacks on women, molestation, harassment, and rape and make UP a safer state for women.
33% also said that the situation of law & order in their city has significantly improved in the last 12 months and 39% said there has been some improvement. 16% said improvement has been negligible and 12% said situation has deteriorated.
A genuine attempt to bring law & order to the state is being made by the government. Under the Yogi government, 1200 encounters have been done and more than 40 criminals have been killed.
Overall, 13% residents said that UP government in the last 1 year exceeded their expectations, 37% said it met their expectation, 43% said government performance was below expectations and 7% were unsure about it.
LocalCircles on behalf of the participating citizens will shortly send this report to the UP CM Yogi Adityanath and expects that the state government would work on the findings in the coming year.
Poll Summary
You may also like:
About LocalCircles
LocalCircles, India's leading Community Social Media platform takes Social Media to the next level and makes it about Communities, Governance and Utility. It enables citizens to connect with communities for most aspects of urban daily life like Neighborhood, Constituency, City, Government, Causes, Interests and Needs, seek information/assistance when needed, come together for various initiatives and improve their urban daily life. LocalCircles is free for citizens and always will be!
All content in the above graphics in this report are a copyright of LocalCircles and must be used only in the prescribed format. LocalCircles reserves the right to take legal action against any reproduction or redistribution of this content without explicit written approval of LocalCircles.