MakeMyTrip India Pvt. Ltd.
MakeMyTrip Limited is an Indian e-commerce travel agency.
Faridabad

A-7, 1st Floor, Neelam Bata Road, Landmark - Near Neelam Chowk, Fariadabad 121001 Why can't Indian companies come up with clean websites. Why does every thing has to be like big bazaar. We need more cleartrips flipkarts and may be even localcircles...
Mar 10
Share By Email:
Share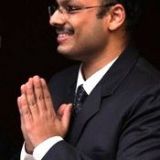 Average.
Mar 7
Share By Email:
Share