Largest survey on first year of Swachh Bharat
(Over 40,000 citizen respondents across states and cities)
Citizens rate the performance of the mission on cleanliness of their cities
51 % citizens say children are now sensitive about cleanliness
94 % citizen believe that local bodies need to be better engaged
71 % citizen say availability of toilets has not improved in the cities
October 1, 2015
Background
India's leading citizen engagement platform LocalCircles (www.localcircles.com) has carried out a survey on the impact and assessment of the Government's Swachh Bharat Mission. Over the last 12 months, over 335,000 citizens have become part of the various Swachh Bharat citizen communities across more than 100 cities of India. These are citizens who are interested in governance and improving civic life in their respective cities.
LocalCircles has a National Community called "Swachh Bharat" which enables Swachh Bharat Mission to easily seek collective citizen inputs on various aspects of Swachh Bharat policy and state of things in real time. Based on collective citizen inputs, over 50 whitepapers/checklists have been generated in the last one year. These cover subjects like Municipal Reforms to Civic Sense Basics for every Indian, engaging citizens in every aspect of Swachh Bharat policy making.
In addition to the Swachh Bharat National Circle, over 100 city level Swachh Bharat online communities have been initiated in the last 6 months, bringing citizens together at a local level for discussion, collective on the ground cleanliness action and with the objective of collective citizen engagement with the urban local bodies in these cities.
Survey Results Summary
The enclosed survey on one year of Swachh Bharat was conducted in the Swachh Bharat National Circle to gauge the impact and performance of Swachh Bharat in a transparent manner. The objective was to understand what's working and where efforts need to be put in going forward. On an average, over 30,000 citizens participated in each poll with over 50,000 citizens participating in a few polls, thereby providing a very large sample size. The sample makes it the largest poll done in the history of civic issues engagement.
The biggest positive achieved in one year of Swachh Bharat has been the change of attitude and civic sense orientation of kids with over 51% respondents confirming it. The biggest negative has been the lack of engagement of urban local bodies. Over 72% of the respondents suggesting that their municipality is not engaged citizens for cleanliness activities/civic sense awareness. Almost 13% believe that the availability of public toilets has improved in their city. Overall, 21% of the citizens believe that their city has become cleaner in the last one year as a result of Swachh Bharat Mission. This is more than 1/5th of the citizens and shows that the Mission has had an impact.
A key issue identified by citizens is the involvement of municipalities in Swachh Bharat Mission and engaging citizens in the same. 95% of the respondents believe that it is critical for the city/municipal leadership to engage with citizens on this mission. In addition, 94% of the citizens' say, that their municipality needs a major upgrade on all fronts including skills, processes, systems, equipment, people and leadership.
The community also believes that the Swachh Bharat Ambassadors have been under-utilized in the first year. With over 82% respondents suggesting that the ambassadors can be a local node that can motivate citizens and municipalities to work together. Also, 87% of the respondents believe that a city's ability to deliver on Swachh Bharat milestones should be a critical requirement before any smart city funds are released to the city.
The detailed poll results are as follows:
Swachh Bharat Poll # 1
Swachh Bharat Poll # 2
Swachh Bharat Poll # 3
Swachh Bharat Poll # 4
Swachh Bharat Poll # 5
Swachh Bharat Poll # 6
Swachh Bharat Poll # 7
Swachh Bharat Poll # 8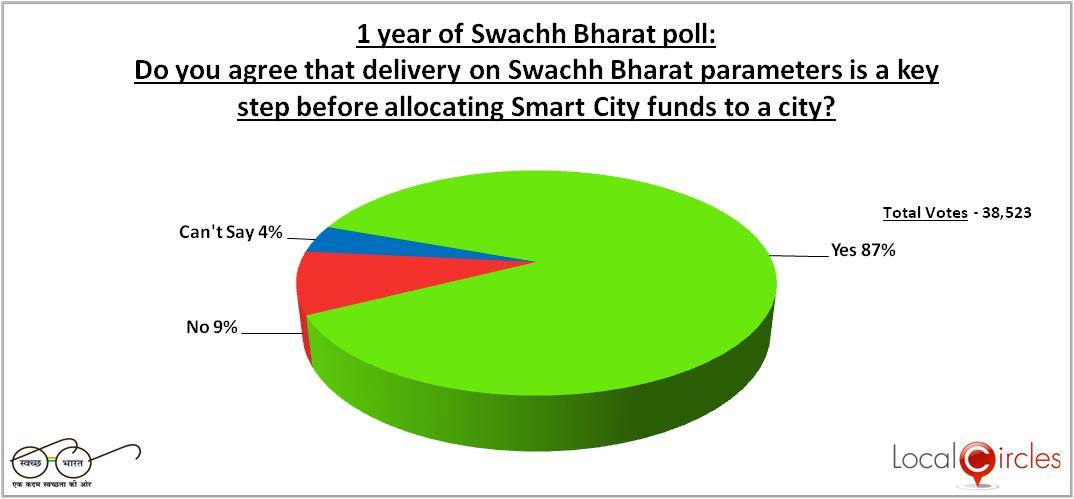 National Poll Demographic Details
Rollup of City Ratings – State Level Swachh Bharat Impact
Seven states have shown a visible improvement in the level of cleanliness based on the feedback from the citizens. Majority of the states have shown marginal improvement in cleanliness. The feedback from the North-East States was limited due to lack of city level Swachh Bharat circles there. Gujarat, Chattisgarh, Andhra Pradesh, Punjab, Karnataka and Himachal Pradesh have shown visible improvement, according to citizens. Some of the states have shown visible improvements in their capital cities but their overall ranking has fallen as other cities in the state have performed poorly. Marginal improvement includes states that have shown zero improvement too.
The absence of some of the most populous states like Uttar Pradesh, Bihar, Delhi and Haryana in the visible improvement list means that a lot of work still has to be done. A second round of research at city level needs to be done to find why the urban local bodies in cities of these states are not able to implement Swachh Bharat Mission effectively.
About Swachh Bharat Citizen Communities
Swachh Bharat Online Citizen Communities are now available in over 100 cities of India. These communities allow citizens in these cities to get and stay connected for the cause of Swachh Bharat. The urban local bodies of these cities can access their respective city community to seek citizen inputs, run surveys, organize events like cleanliness drives, citizen feedback sessions etc. on fingertips. These communities started by LocalCircles (www.localcircles.com) and Swachh Bharat Mission, Ministry of Urban Development in October 2014 promote participative governance in its truest sense.
About LocalCircles
LocalCircles takes Social Media to the next level and makes it about Communities, Governance and Utility. It enables citizens to connect with communities for most aspects of urban daily life like Neighborhood, Constituency, City, Government, Causes, Interests and Needs, seek information/assistance when needed, come together for various initiatives and improve their urban daily life. LocalCircles is free for citizens and always will be!