81% Citizens demand a regulatory body for private school fee monitoring
Parents in favour of a school fee regulatory body under CBSE and State Boards
NCR Parents say no actions taken by most schools after the protests in April
District administration unable to help with the matter
New Delhi, India, July 25, 2016: The new school session for parents across India has started with a fees hike and in many cases an excessive one. LocalCircles, the largest citizen engagement platform in the country had raised this issue during April and the local district authorities had started taking actions including demanding corrective actions from the schools.
Unfortunately, most of the action initiated by district authorities has not led to results as schools combined forces and got a stay from the high courts. As a result the order by district education authorities or district administration to curb indiscriminate fees hike by the schools has not worked.
Parents have to bear the higher fees outflow and their associations continue to protest about the fees hikes. LocalCircles carried out two surveys on this issue last week. The results of which show clearly that majority of the schools have not implemented any roll back in fee as demanded by parents and district administration.
Bulk of the citizens 84 % to 87 % still say that the fees hike in their child's school is a matter of great concern. LocalCircles also asked district administration across the country and there unianimous view was that schools have not stopped fees hike inspite of notice being served to them. Per some of the district magistrates, the fee hike issue cannot be addressed by the district administration and a policy change needs to be initiated to establish a regulator for school fees under the central and state governments.
81% of the parents are in support of such a regulatory body so that action is taken on this matter at the earliest. The poll results and the collective views of the parents will shortly be shared with Ministry of HRD and State Education Boards. Below is the poll and collective suggestions from citizens on how private school fee increases should be regulated.
National Poll on the establishment of regulator for school fees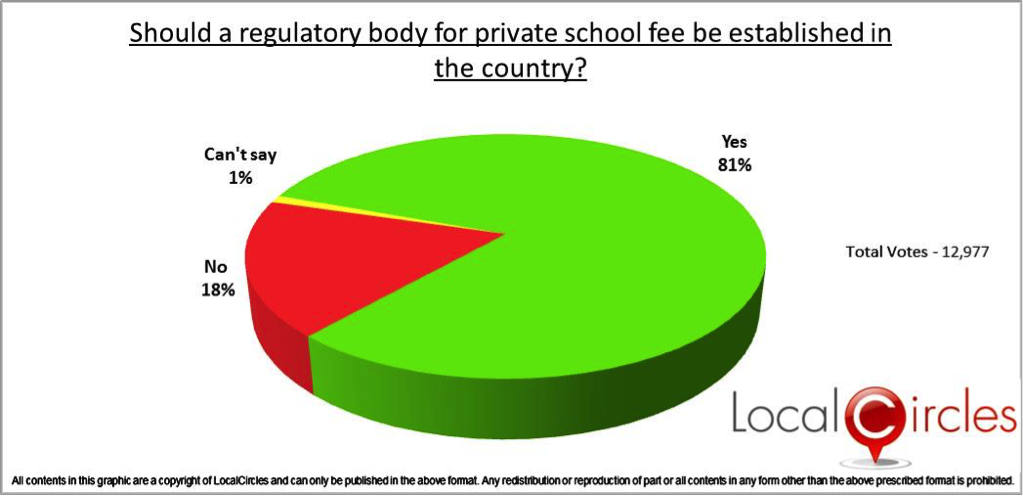 Collective Citizen inputs on how the matter should be addressed:
1. Private School Fee Regulator should be under Chairman CBSE and State Boards
2. The regulator should be responsible for preventing any undue fee hike by private schools
3. Audits should be conducted regularly to ensure compliance to set standards
4. The regulatory body should look at the quality of education and course material developed by the school
5. The regulator will be really useful if it is manned by personnel of integrity, beyond boards
6. A benchmark could also be developed keeping in view the location of the school, per capita income of that location, minimum and maximum fees etc
7. . The Government should also make suitable legislation to give authority to the regulator to close the schools which do not adhere to the minimum standards issued by the regulator.
As a reference, LocalCircles had also conducted local polls on the matter in many cities across India. Below are the citizen responses from Noida and Gurgaon as a reference as parents in both cities have raised the issue of excessive fee increases:
Poll #1 – Noida (July '16)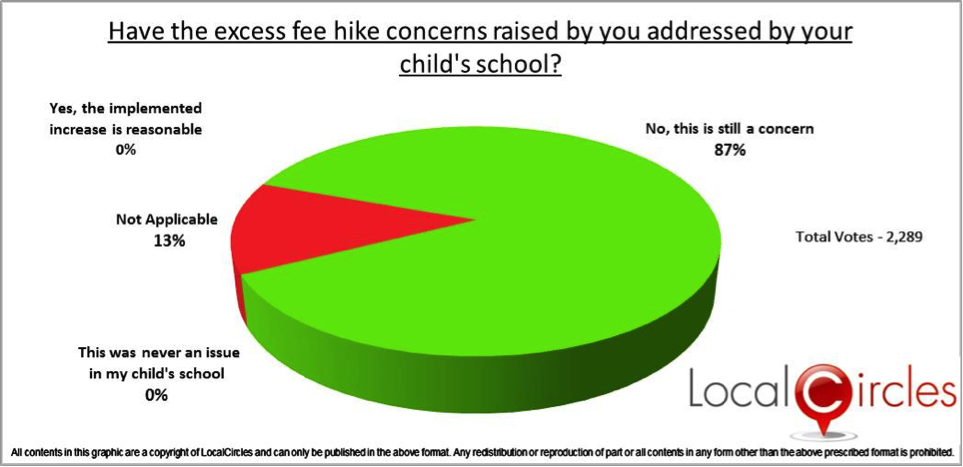 Poll #2 – Gurgaon (July '16)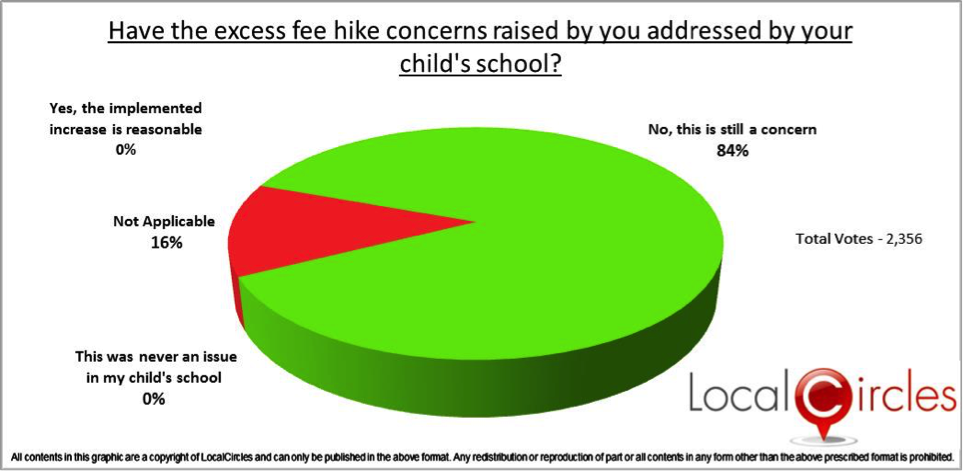 Poll #1 – Noida (April '16)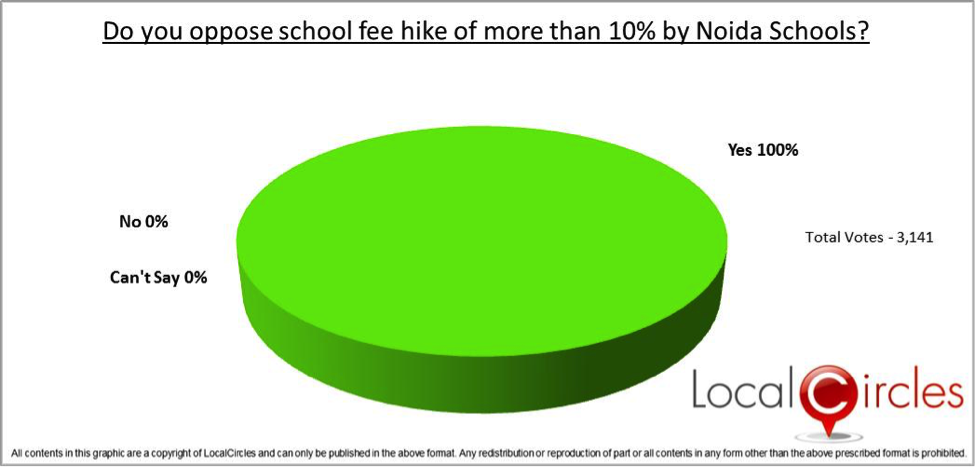 Poll #2 – Gurgaon (April '16)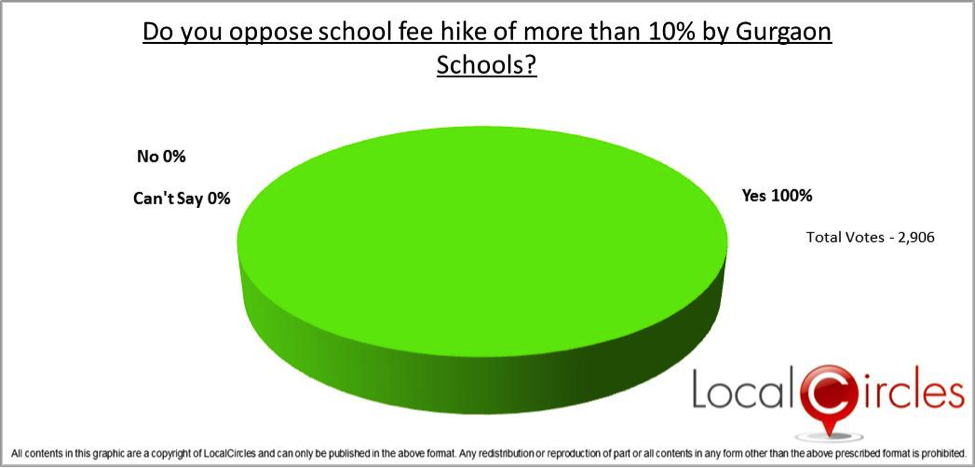 According to the surveys done in April, each and every parent in Gurgaon is opposed to the more than 10% fee hike in schools. The situation in Noida is no different with all parents opposing more than 10% hike. Please see the last article on this issue below: http://timesofindia.indiatimes.com/city/gurgaon/Irked-parents-say-no-to-steep-hike-in-fee/articleshow/51961315.cms
About LocalCircles
LocalCircles takes Social Media to the next level and makes it about Communities, Governance and Utility. It enables citizens to connect with communities for most aspects of urban daily life like Neighborhood, Constituency, City, Government, Causes, Interests and Needs, seek information/assistance when needed, come together for various initiatives and improve their urban daily life. LocalCircles is free for citizens and always will be!