81% Citizens vote against Free Basics and want Unbiased/Neutral Internet
• 78% Citizens want the Government to provide free conditional internet access covering essential/useful citizen services, information, news, emergency alerts, education, etc.
New Delhi, India, January 08, 2015 – LocalCircles (www.localcircles.com), yesterday concluded its latest citizen survey and discussion on Net Neutrality and Internet Access. With over 14,000 citizens responding to each question, 81% of them have voted against Free Basics or any such program and want an unbiased/neutral internet for themselves and their fellow citizens who currently may not have internet connectivity.
On a follow on question asking if the Central/State Government should provide free internet access covering essential/useful citizen services, 78% said an affirmative Yes.
In the qualitative discussion on the subject of Net Neutrality, citizens suggested that more people should get access to the internet faster, however, private internet players should not be the gateways to the internet for the population and the Government should instead provide free access to essential/useful internet, independently or in partnership with telecom providers. In addition, the concern that has been repeatedly raised is that providing free open access across the board would lead to misuse of the facility and lead to high usage of services like photos, videos, entertainment (common use cases in social networks) etc. and such usage will not only impact the use of essential services but also have negative social consequences to a population that would be new to the internet. Majority of the citizens are in favour of essential/useful internet services being furnished free by the Government while other internet access like entertainment, leisure, etc. being made available for purchase directly between a citizen and the telecom provider.
An additional discussion has just been initiated on how the Government (Central, State, City) should go about making free internet available and what are the various models that can be considered. Output of this discussion will be shared soon.
Poll Results
Poll #1
Poll #2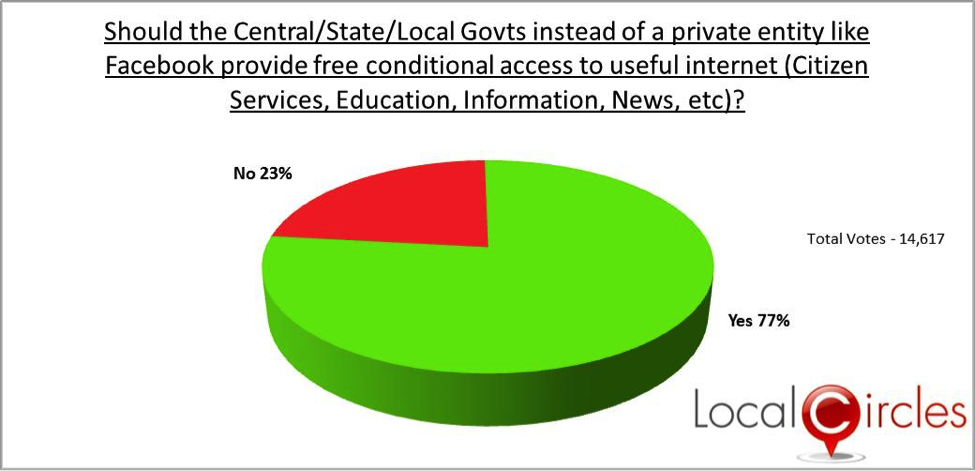 About LocalCircles
LocalCircles, India's leading citizen engagement platform takes Social Media to the next level and makes it about Communities, Governance and Utility. It enables citizens to connect with communities for most aspects of urban daily life like Neighborhood, Constituency, City, Government, Causes, Interests and Needs, seek information/assistance when needed, come together for various initiatives and improve their urban daily life. LocalCircles is free for citizens and always will be!