Citizens want subsidized LED distribution process to be improved
• 64 pct citizens say they haven't gotten the LED bulbs and don't know how to get them
• Citizens say State Distribution agencies need to strengthen communication and processes
New Delhi, India, September 5, 2016 – The government had announced an LED distribution scheme under which customers of electricity board could buy LED at a subsidised rate. Prime Minister Narendra Modi had launched this scheme in April 2015, so it been more than 16 months. The objective was to reduce total power consumption as LED bulbs consume lesser power than CFL and incandescent bulbs.
Though the scheme was announced by the central government, its distribution and execution is in the hands of the state government to be more specific the state electricity board. After observing multiple posts of citizens raising issues about getting LED bulbs, LocalCircles, the largest citizen engagement platform in the country carried out a poll across more than 56 cities and 20 plus states. The objective of doing this poll in individual cities was that the customer experience for LED distribution would vary from city to city. Some of these cities have privatised power distribution and some of them had state electricity board supplying it.
The consolidated figure shows that 64 % consumers across the country still don't know how to get these LED bulbs. The reason for this is that the scheme has not been communicated to consumers properly. They are not aware of where to procure these bulbs from, how many bulbs can they buy and what is the paperwork required for the same.
Every state electricity board communicates to its customers by sending them bills through post. Not many SEBs have chosen to use the bills to communicate this offer to the consumer. Some of who had are represented by the 23 % consumers who said they have received the LED bulbs and it was easy to get them.
LocalCircles has broken up the polls state wise to show the impact this scheme has had on its customers. There is city level data also available which has been included with this study. In crowd sourcing for solutions relating to the distribution of these bulbs several important points came out.
Consumers feel that the process for procuring the LED bulbs should be simple. It should be communicated in all languages including local regional language in advertisements, and on the bills being sent to consumers. Citizens also suggested that local distribution agency should send SMS and have a hotline that citizens can call and find information.
Moreover, they suggested that these bulbs be marked by specific identification codes that is visible so that this stock is not sold in the open market. Consumers feel that there is huge chance of subsidised LED bulbs being sold in the open market by unscrupulous elements.
#State Level Breakdown of Poll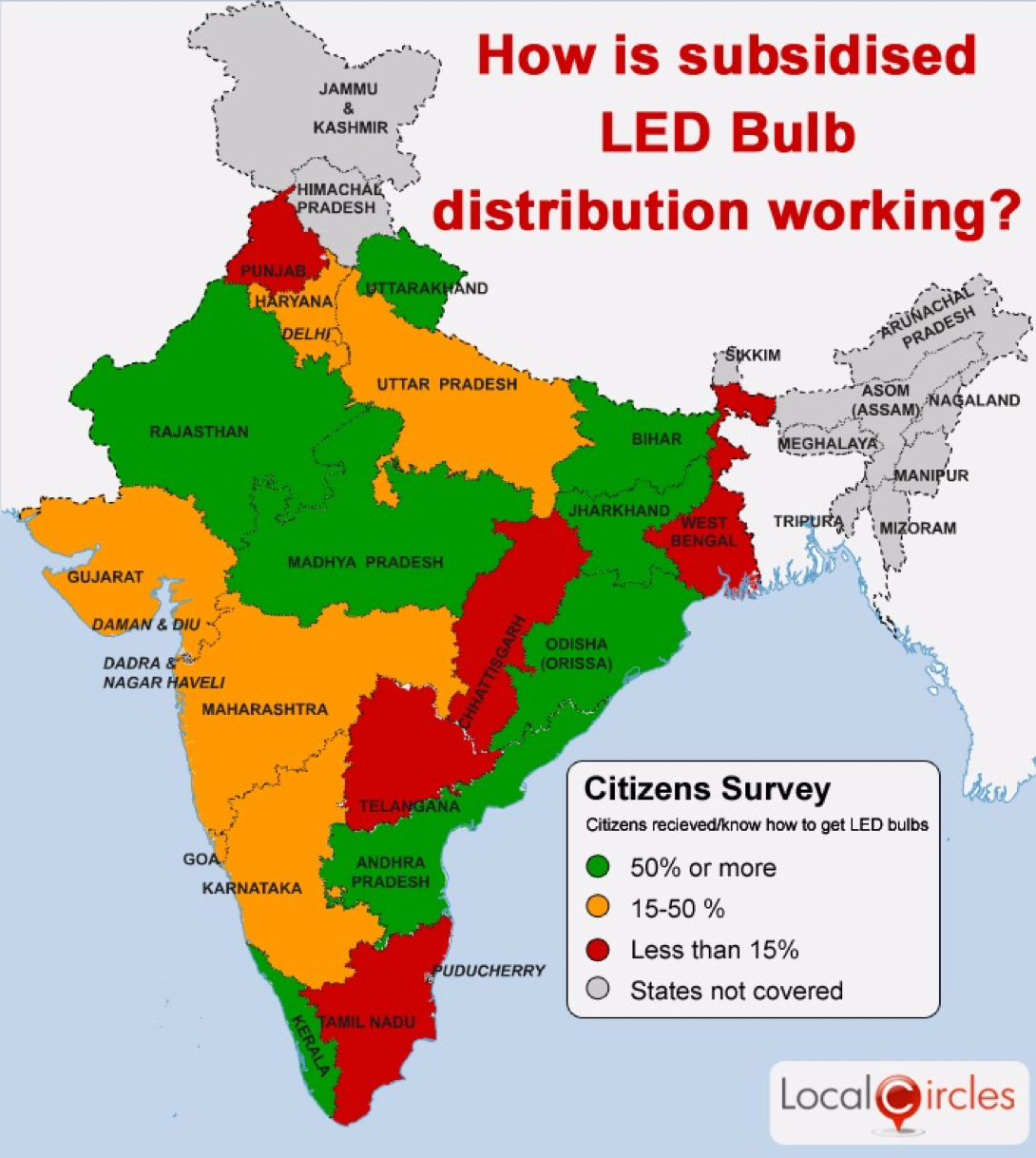 #National poll result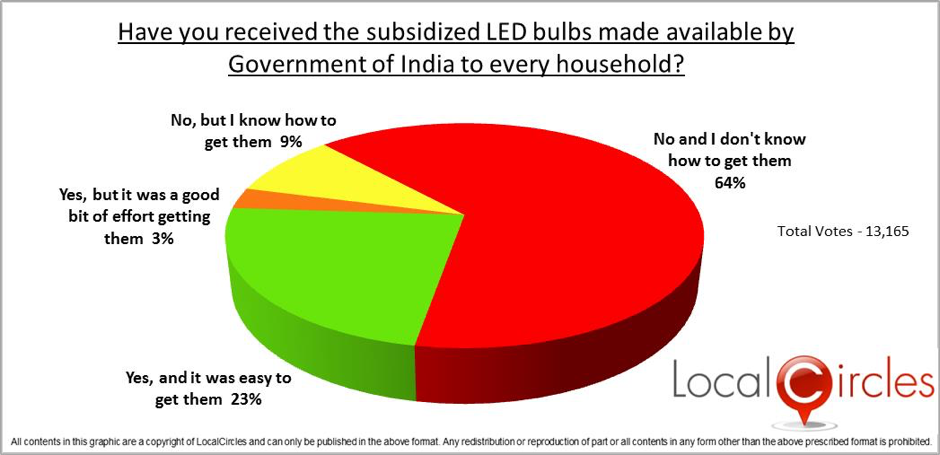 #State wise poll results for select states:
Delhi: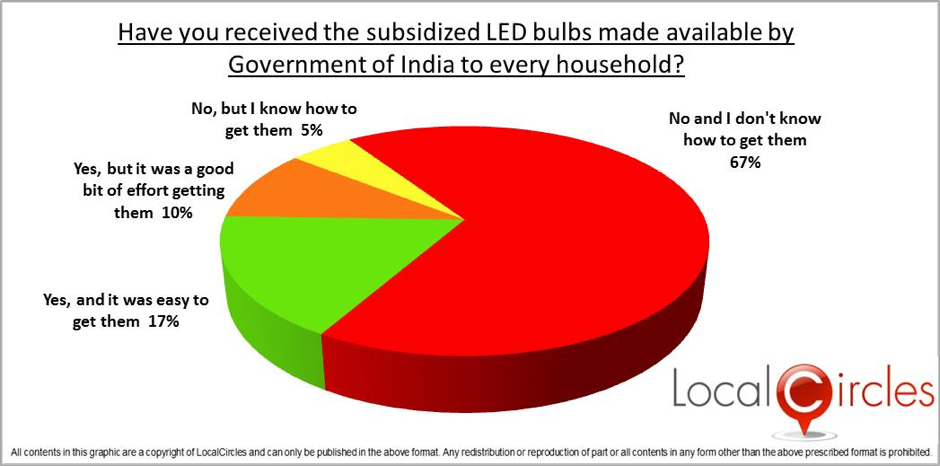 Andhra Pradesh: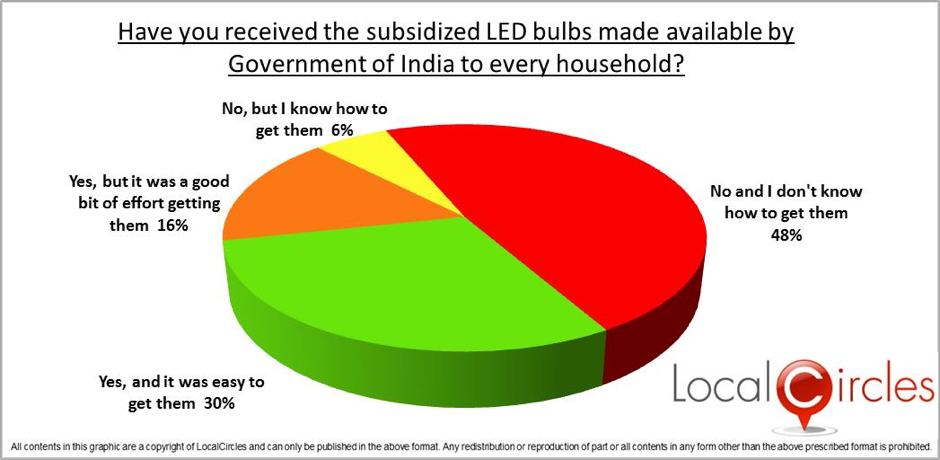 Gujarat: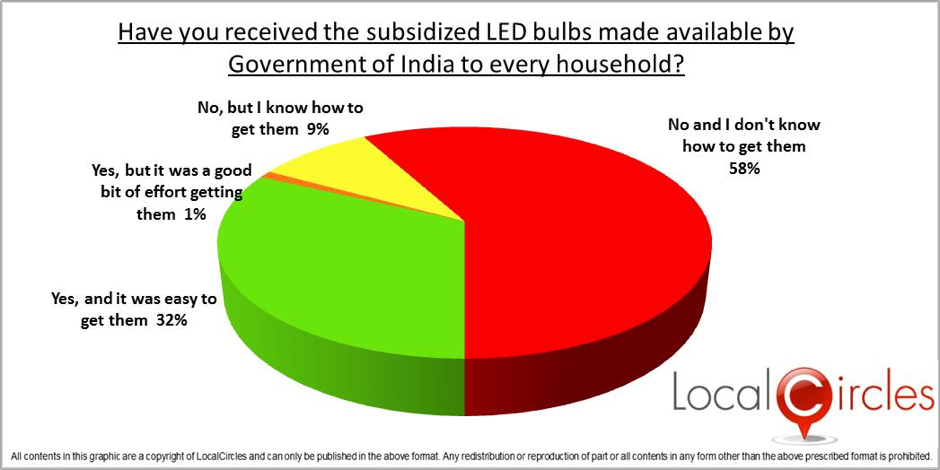 Haryana: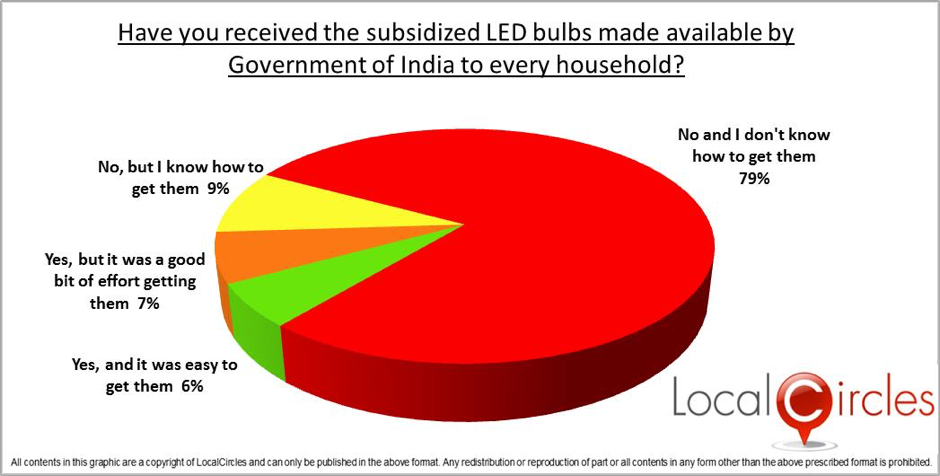 Karnataka: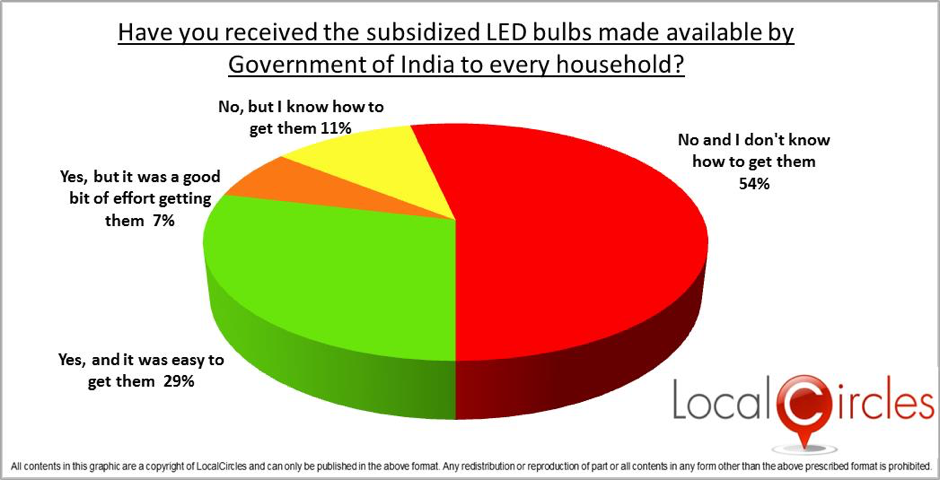 Madhya Pradesh: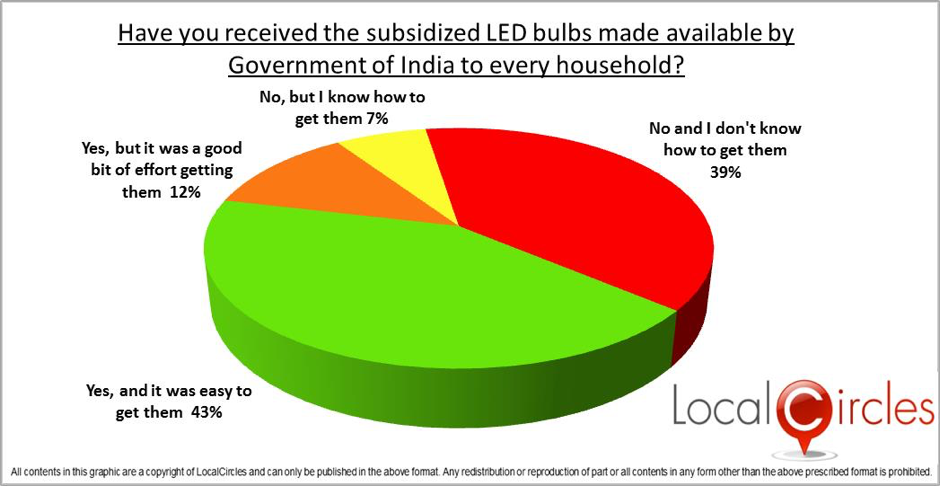 Maharashtra: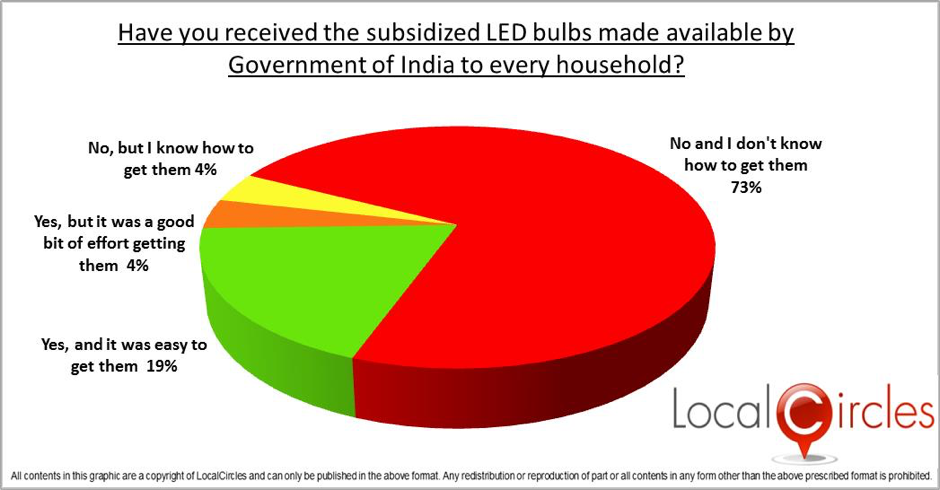 Punjab: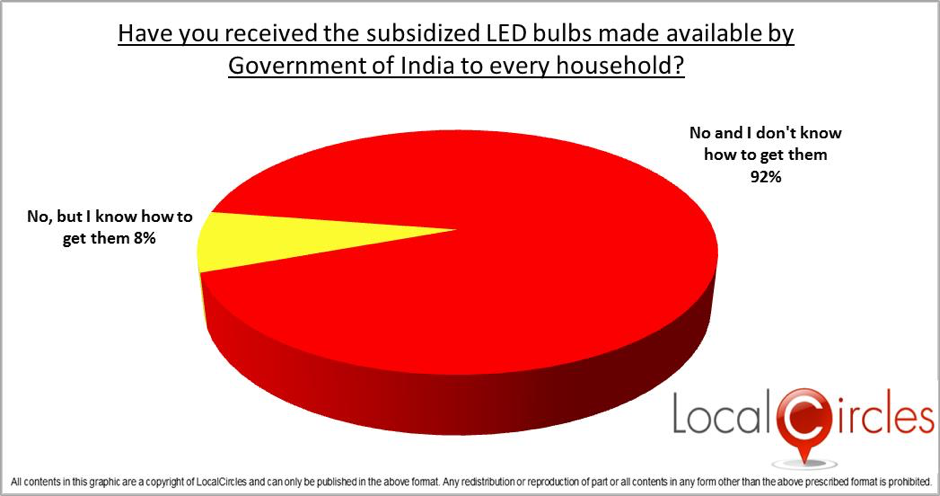 Rajasthan: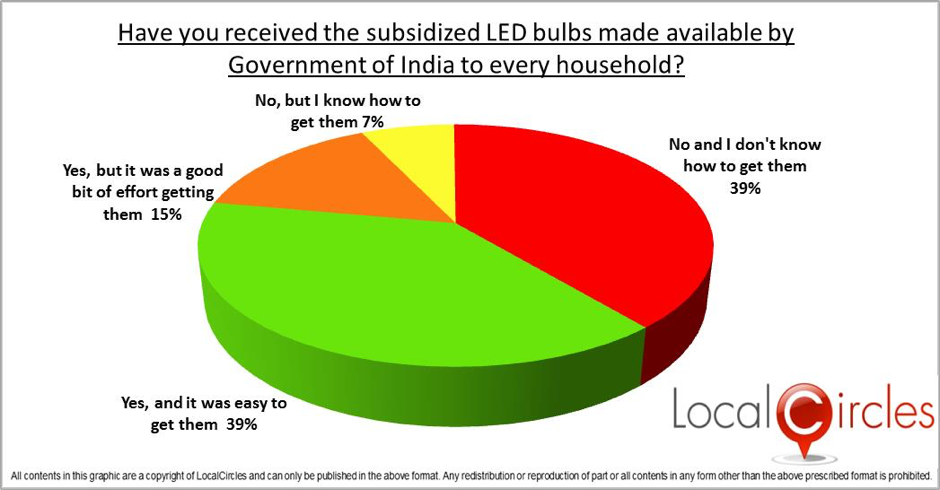 Tamil Nadu: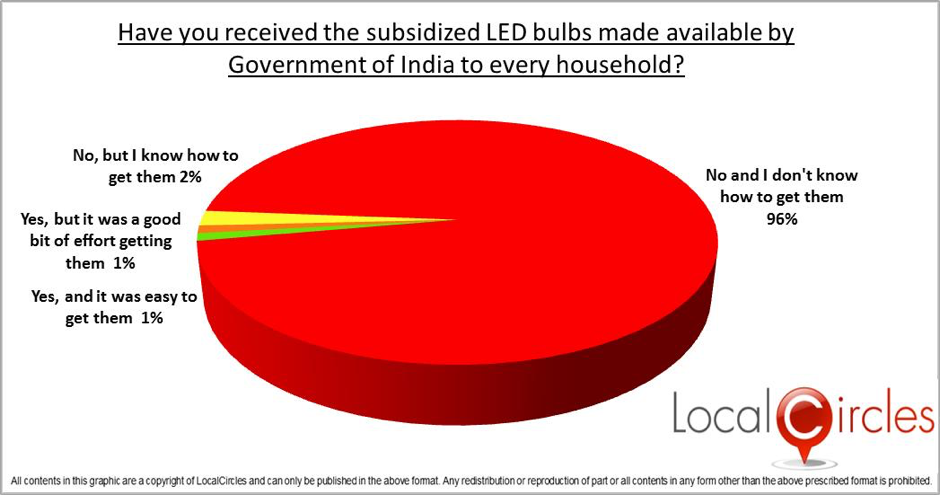 Uttar Pradesh: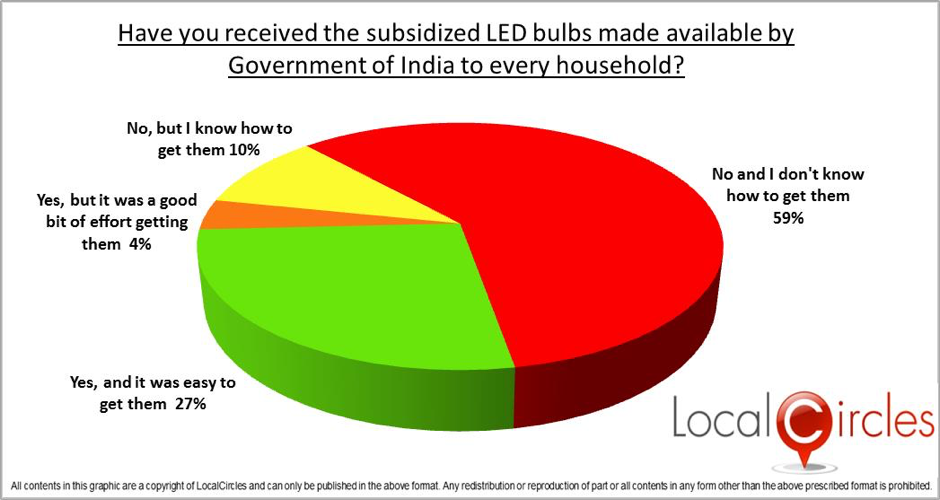 West Bengal: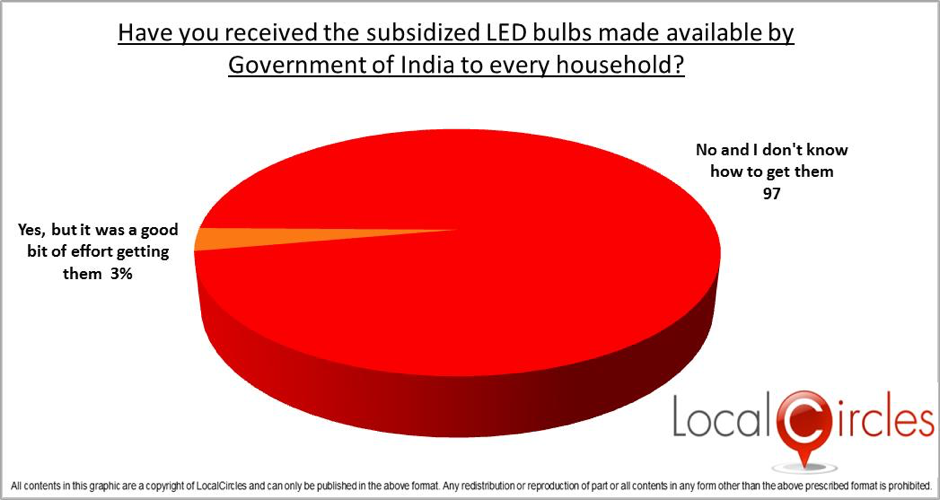 #City wise poll results (exceptions highlighted)
Noida: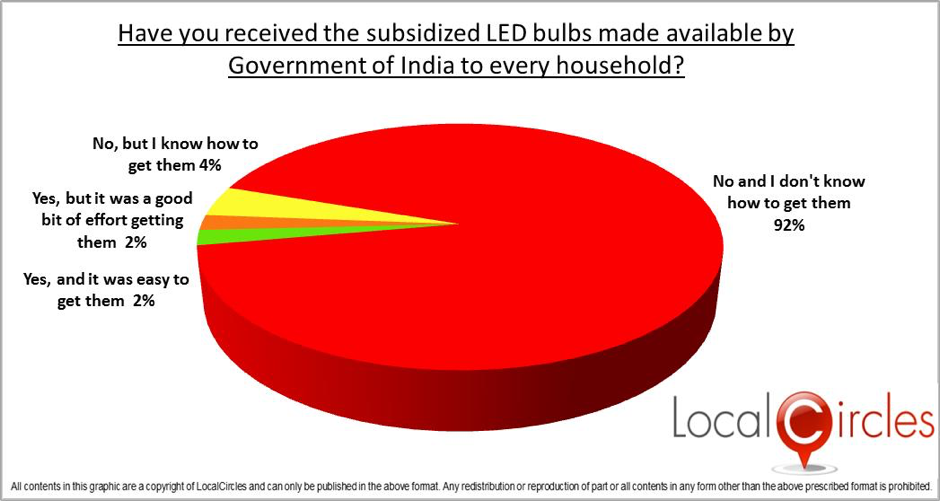 Ghaziabad: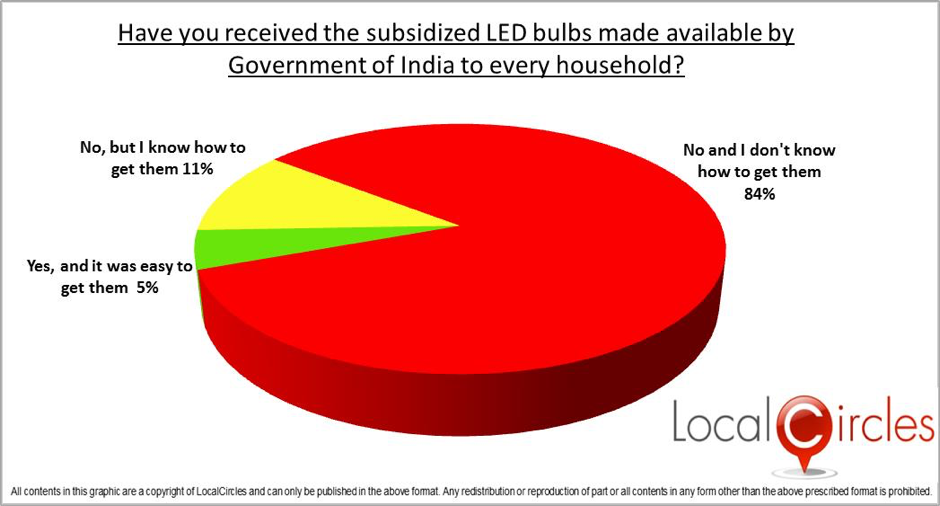 Hyderabad: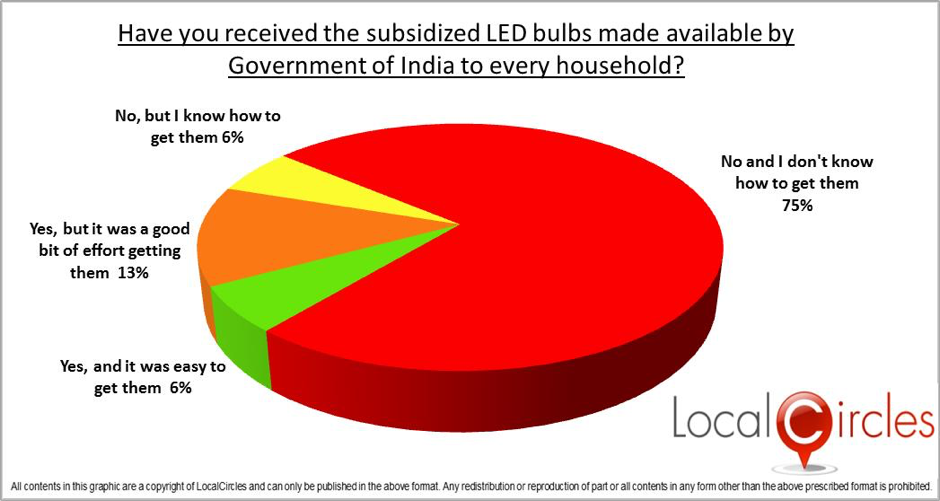 Chennai: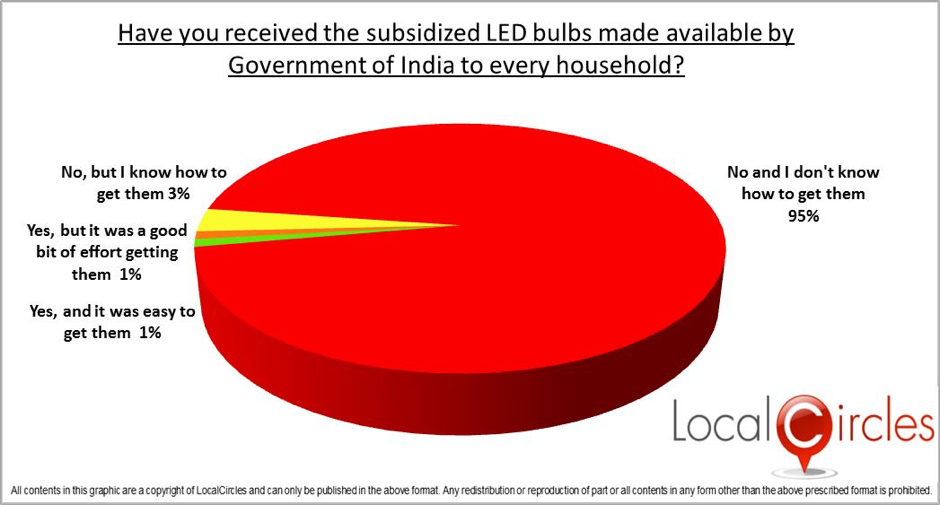 Mumbai: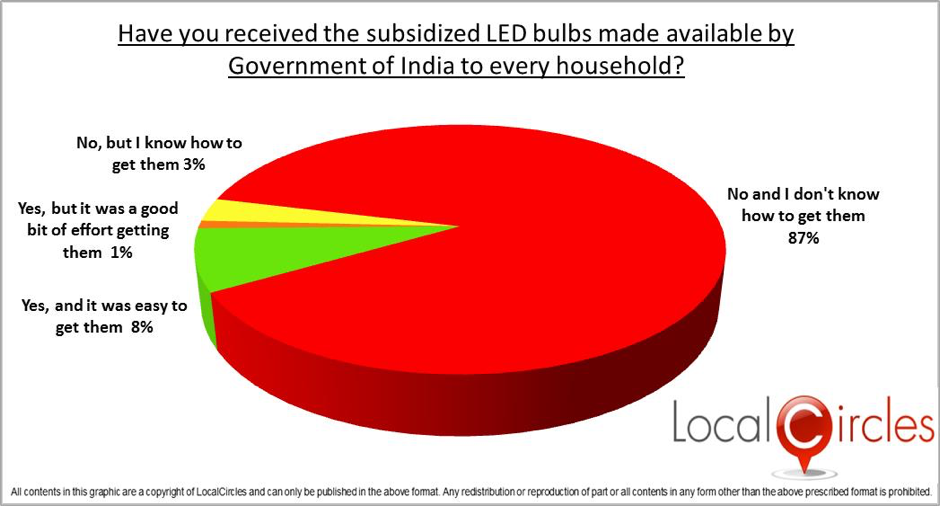 Pune: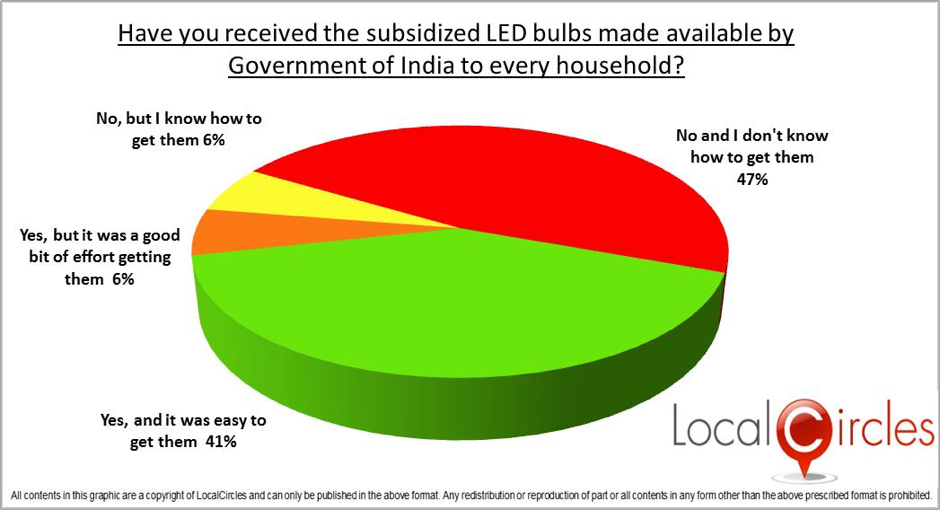 Gurgaon: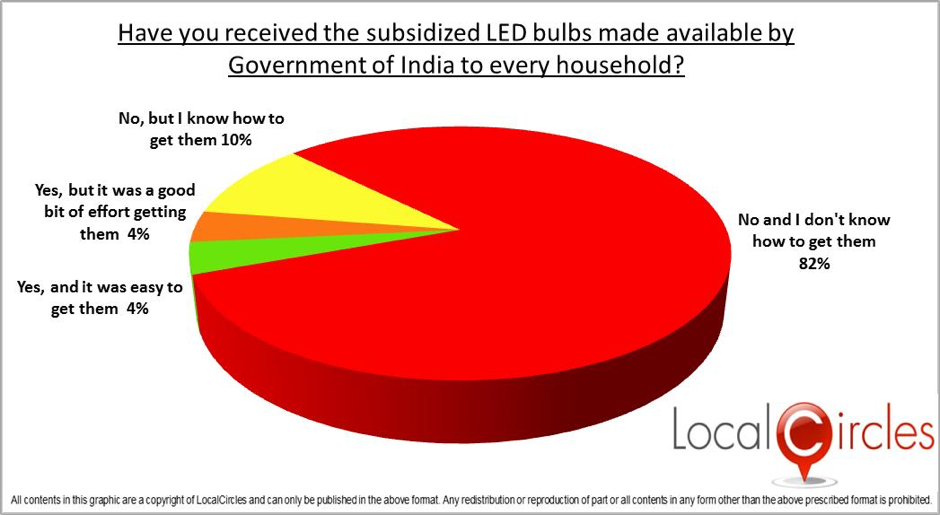 Faridabad:
Vadodara: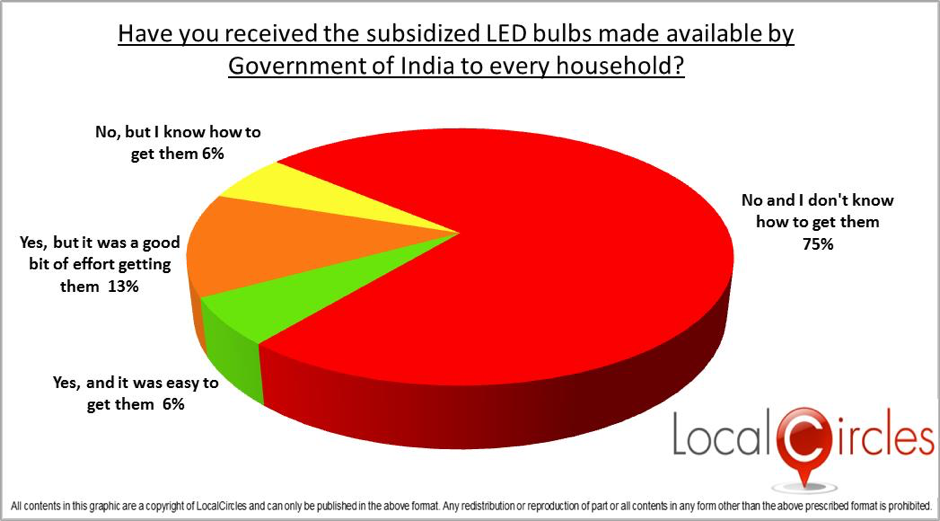 Ahmedabad: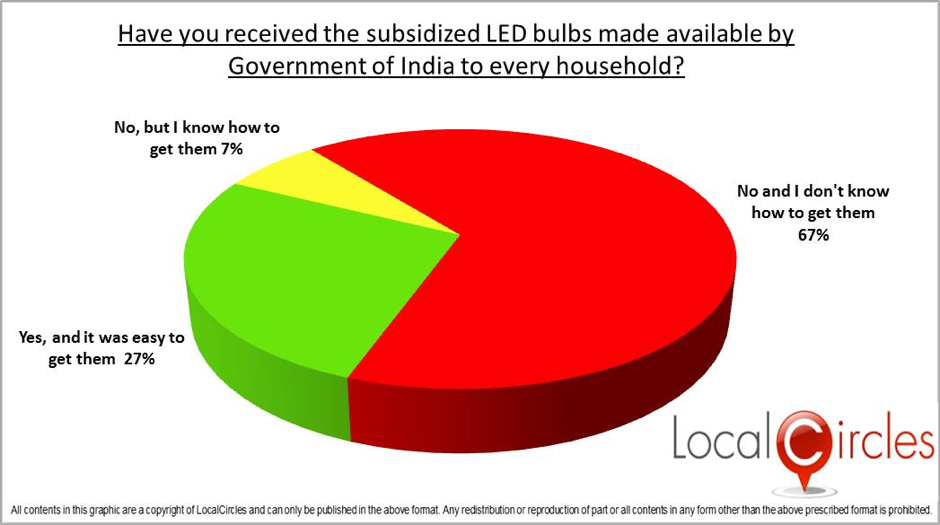 Issues with Subsidized LED distribution process as reported by citizens:
1. It is very cumbersome to get the LED bulbs 
2. The quality of the bulbs is not up to the mark
 
3. Some subsidized LED bulbs conk off within a few days
 
4. Subsidized LEDs land up at electrical shops and get sold at normal prices 
5. Whenever one goes to pay the bill and asks for the bulbs, they are told to be out of stock 
6. The customer helpline number given on the bill is mostly non-functional 
7. Many of the available units look fake 
8. Many government ads are broadcasted in Hindi even in cities like Chennai and people don't understand it 
9. Bulbs are being used to get political mileage by some State Governments while they have nothing to do with them 
10. Bulbs are being distributed using ineffective methods of a van going in a colony using a loud speaker 
11. Majority people have no idea about the process to get the LED bulbs
Citizen inputs on how distribution of Subsidised LED bulbs can be improved:
1. The process of getting the subsidised LEDs should be properly defined
2. This process should be displayed on the bill payment counters
3. The quality of these LED bulbs should be improved
4. Prompt replacement of these bulbs should be done if they stop working within the stipulated time
5. The power department should put up stalls in different areas across the country to distribute these bulbs
6. People manning these stalls should be asked to go house to house to inform people about this scheme
7. RWAs should give them free space to put up stalls for distribution of subsidised LED bulbs in their colony
8. The customer helpline number printed on the bulbs should be properly manned from 9am to 6pm
9. Advertisement about such schemes should be done in regional languages also
10. Government may issue instructions to Electric Supply Licensees to provide LED bulbs to consumers at their homes
11. All the electricity department offices should have a dedicated desk for LED bulb distribution
12. The stockists should be asked to make sure that the bulbs do not go out of stock every second day
13. All the subsidised bulbs should be marked with a unique identification so that they cannot be sold at general electrical shops from the back doors
14. LEDs could also be made available at the post offices for ease of distribution
15. The process of getting the bulbs should be printed on the electricity bills
16. A statewide hotline number should be started where people can call and ask for the place in their locality from where the bulbs can be got
17. Everybody calling this hotline from a mobile should get an automatic SMS with the centre details
About LocalCircles
LocalCircles takes Social Media to the next level and makes it about Communities, Governance and Utility. It enables citizens to connect with communities for most aspects of urban daily life like Neighborhood, Constituency, City, Government, Causes, Interests and Needs, seek information/assistance when needed, come together for various initiatives and improve their urban daily life. LocalCircles is free for citizens and always will be!