Majority of Citizens in support of India Cleaning at Night
• 80% citizens say no significant city cleaning currently takes place at night
• 91% citizens willing to change their lifestyle to support cleaning at night
• Lifestyle changes may require cleaning homes/offices in late afternoon/early evening and putting garbage out at night
• Citizens give inputs on whats to be done to implement night cleaning
New Delhi, India, Aug 4th, 2016 TNight cleaning as a practice is followed in many developed countries such that citizens put their garbage out at night time and by morning it is already picked up. Street cleaning in many top cities around the world takes place during night time. As a result, school and office goers are not subjected to dust and garbage is not a common sight.
Unlike developed countries, very little is done in India when it comes to cleaning at night. Schools, Homes, Offices, Streets are all cleaned during morning hours and that leads to dusty air, sights of piled ups garbage, mosquitoes and leading to many negative implications on our health and quality of life.
Over 350,000 citizens in LocalCircles' Swachh Bharat Circle recently discussed the possibility of night cleaning in India and how it can become a reality. The best part is that majority of citizens who participated in this exercise are willing to make changes to their lifestyle and help make Night Cleaning a reality.
Here are collective citizen inputs on how can India Clean at Night:
• Municipal workers could be deployed in shifts like in other industries
• The main roads and arterial roads should be cleaned at night, when they have least vehicular traffic
• Modern equipment should be bought to assist in increasing worker efficiency
• Workers who do the night shift should be given special allowances
• This process will also optimise utilisation of collection resources, with faster collection and transfer
• The home dustbins could just be kept outside the house at nights for the municipality to clear them
• The process should be divided in two parts:

a. Cleaning group in Night Time (before 5 am)
b. Observer & Inspection group inspection before 8.00 am Day time
c. If public reports garbage anywhere in city after 8.00 am then Observer & Inspection group should be held responsible

• Night shifts should be on a rotational basis
• Private companies could be hired to assist the Municipality at nights
• Home cleaning could be conducted in the second half of the day between 1 pm - 8 pm and place garbage out at night.
• Offices could clean post closure starting 7/8 pm and place garbage out by 10 pm
• Rag-pickers could be organized used to assist the municipality to clean at nights
• The RWAs should be empowered to sign the log book which the cleaning supervisor must carry without fail
• Malba and other waste dumping sites should be well notified about the initiative
Here are some things that will have to be considered in the implementation:
1. Non-availability of street lights at night in many places
2. Supervising and controlling the workers could be an issue
3. Attitude of officials - Resistance to a new process as it requires deviation from existing routine. Also, it involves night working for some workers
4. Attitude of people - Hard to adopt a new system. At present household garbage is taken away in the forenoon. In new system, garbage will go out at night
5. Households that employ individual part or full time help for cleaning will have to ensure that cleaner is able to adjust their schedule and work from 1-8 pm timings.
6. There are more than 50% of women deployed in this job who will show their inability to accept this
Below are the key polls to measure current state and willingness of citizens:
#Poll question 1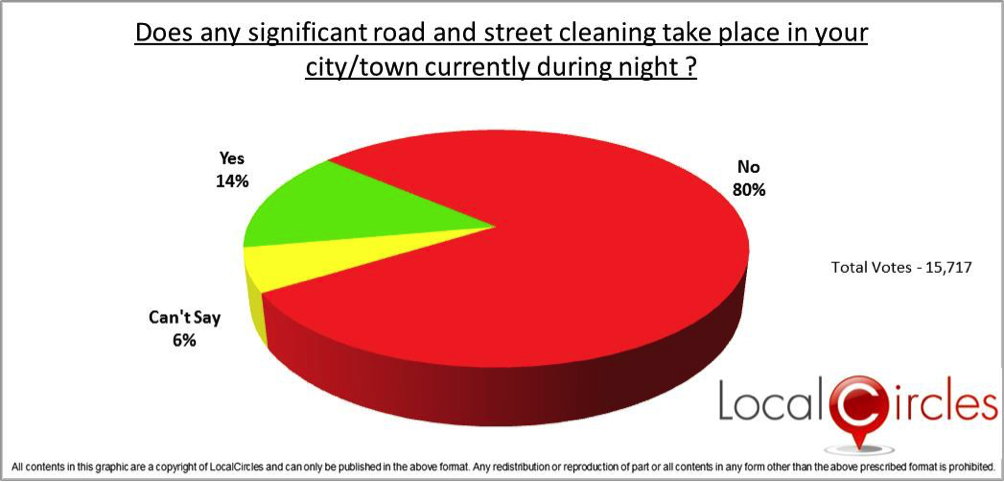 #Poll question 2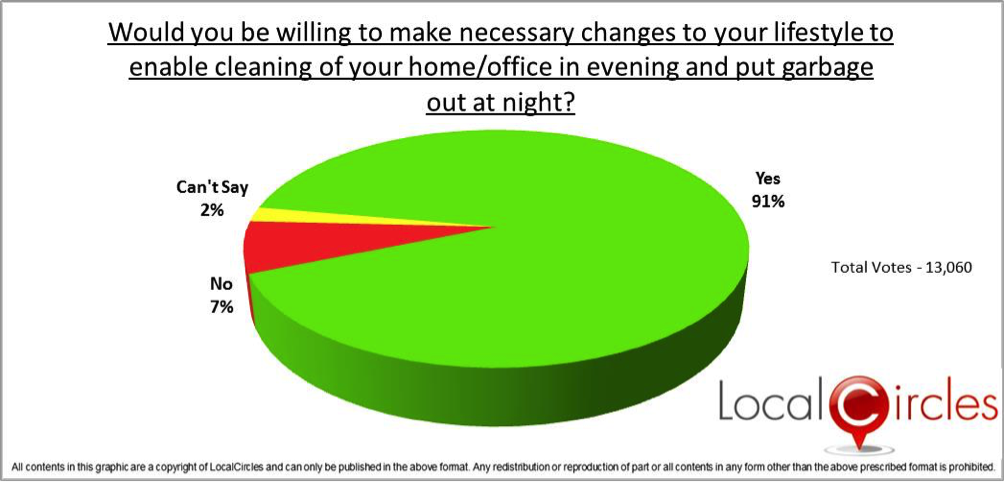 The above surveys have been shared with Swachh Bharat Mission Directorate and the Directorate will be encouraging Urban Local Bodies across India to maximize night cleaning and implement the citizen recommendations.
About Swachh Bharat Circle
The subject discussion was conducted in Swachh Bharat circle, India's largest citizen community on Swachh Bharat. The Swachh Bharat Circle was started on Oct 2nd by Swachh Bharat Mission, Ministry of Urban Development in association with LocalCircles to make Swachh Bharat a jan andolan/public movement and engage citizens across India. Now, this circle is the largest online community with over 350,000 citizens participating from over 200 cities. For more details on the initiative visit: http://pib.nic.in/newsite/PrintRelease.aspx?relid=110405
About LocalCircles
LocalCircles takes Social Media to the next level and makes it about Communities, Governance and Utility. It enables citizens to connect with communities for most aspects of urban daily life like Neighborhood, Constituency, City, Government, Causes, Interests and Needs, seek information/assistance when needed, come together for various initiatives and improve their urban daily life. LocalCircles is free for citizens and always will be!