"Citizen Pulse on 75 years of India's Independence"
Citizen assessment on what India is likely to achieve in the next 5 years
Full Report
August 15, 2022
Background
It is a proud moment for Indians as the country celebrates 75 years of independence. The journey has not been without challenges, but there have been many rewards and some setbacks.
One of the big achievements of India in the 75 year period has been improvement in life expectancy due to better availability of treatments and medicines. Evolving technology is another front on which India has much to be proud about, though much more needs to be done. In 1947, the life expectancy of an average Indian was around 32 years, now it is 70.19 years. The significant drop in infant and child mortality along with maternal mortality has contributed to this important factor. India's efforts to improve the health of the mother and child through various nutrition and subsidized food programmes are also contributing to better health of people. Another achievement India can be proud of is that from a low literacy rate of around 12%, over the last 75 years, the nation of nearly 1.4 billion has a literacy rate of 77.70%.
If one were to list India's major achievements just in the last decade, one of them would be the push towards a hassle free, paperless governance and digitisation. The impact has become more evident in the last six years due to the Digital India mission aiming to create a digital infrastructure as a core utility to provide governance and services on demand, and digital empowerment of citizens. Aadhar, covering 99% of the population, is the most important key to accessing government digital services be it for e-payments or getting clearances for starting a business.
Last two years have been challenging on all fronts as India along with the rest of the world grappled with multiple waves of the Covid pandemic. The second wave saw more people suffer and larger mortality despite the vaccination drive as the health system in most parts of the country failed to cope with the situation leading to great hardship. With new variants of Omicron being found each month, fears of a lethal Covid variant coming back have not faded in some, especially those who lost a family member or are suffering from Long Covid. On the economic front, the Russian-Ukraine war and its impact on crude oil, commodity prices and other raw materials imported have added to the hardship of manufacturers and consumers. Rising cost of living, be it food, education or healthcare is proving an added hardship for most citizens as wages in most sectors are still to return to pre-Covid levels.
As India completes 75 years of its independence on August 15th, 2022, LocalCircles has gone to the people of the country to understand their expectations of what we can hope to achieve as a nation in the next 5 years, when India turns 80 in 2027. The survey which sought people's views about issues that matter received over 79,000 responses from citizens located in 371 districts of India. These ranged from employment and livelihood to corruption and bribery and from social stability to growth and prosperity. It also attempted to understand how people see the COVID pandemic situation changing in the coming years.
Key Survey Findings:
● 82% respondents are optimistic of India's improving clout in the world
● Less than half respondents foresee growth and prosperity for all in next 5 years indicating concerns about wellbeing of citizens
● Only 40% expect improvement in India's social stability identifying it as an area of key focus
● Only 42% respondents expect dip in bribery, corruption; hopefully efforts to push digitization and removal of manual interfaces will address this problem
● 43% see employment and livelihood to be the key challenge for India and hence the need for it to be the topmost priority of the government
● 60% Indians believe Covid may linger 5 years from now but feel majority will have immunity against it
82% respondents foresee India's clout rising in the world in the next five years
The geopolitical stress is causing considerable uncertainty. The Russia Ukraine conflict and it rippling impact has raised fresh concerns regarding global recovery which is bound to impact India in many ways, particularly export of goods and services. One of the consulting firms, Deloitte in its "India's economic outlook - July 2022" report states that despite the challenges, India will likely reign as the world's fastest-growing economy. This optimism seems to be shared by most global bodies including the World Bank and the Indian Monetary Fund (IMF). Despite the recent downgrade in projections, the Indian economy is expected to grow by 7.1-7.6 % in 2022-23. The Reserve Bank of India (RBI) has projected a GDP growth of 7.2 % for the current fiscal ending March 2023.
On the geopolitical front, most citizens have appreciated how India has handled the Russia-Ukraine war and the timely evacuation of Indian students in Ukraine. In community discussions, majority of the people are in strong support of economic actions India has taken against China post the Galwaan conflict in June 2020 and how India has engaged with the rest of the world. With many countries and corporations looking to India for economic expansion and a large, young consumer base or supplier base, many are bullish that India's clout in the world will rise. Out of 13,104 respondents to the question of whether "in the current scenario do they foresee India's clout in the world changing in the next five years" 82% answered in the affirmative while 14% expected it to deteriorate, 3% foresee no change while 1% were undecided. During the tough months of the health pandemic, India was able to reinforce its image as a strong and dependable source of affordable vaccines, medical equipment and generic medicines. Also, with the decline in Covid cases, as the global business picks up, there is an increasing demand for IT and other high skilled professionals from India, according to headhunters.
While the Indian rupee has taken a significant beating in the last 6 months declining to INR 80 per USD, it has fallen less as compared to many other currencies. Economic experts expect it to recover some of the lost ground by early next year.
Only one out of four optimistic that higher economic growth will bring prosperity for all; 38% feel it will benefit only a few
Even as there are expectations of the Indian economy picking up and registering over 7% growth, only 24% out of 12,792 respondents to the question on whether it would financially benefit them felt confident that the emerging scenario would bring growth and prosperity for all while another 36% were hopeful of the country's rising growth to benefit most people. On the contrary, 38% respondents to the question felt hardly a few will reap the benefits of the strengthening economy while 2% felt despondent on this count. The lukewarm response to this question reflects the fact that during the global health pandemic, the number of Indian billionaires grew from 102 to 142, while their combined fortunes more than doubled even as 84% of households in the country suffered a decline in their income in 2021, according to non-profit Oxfam India's report released in January 2022.
Only 39% respondents foresee India being able to create enough employment and entrepreneurship opportunities in the next 5 years
An area of continuing concern for many families is the lack of jobs that promise sustainable income. Though the National Statistical Office (NSO) data shows that unemployment rate for persons aged 15 years and above in urban areas dipped to 8.2 % in January-March 2022 from 9.3 % in the year-ago quarter, the Centre for Monitoring Indian Economy (CMIE) month-to-month data shows that unemployment rate rose from 7.1% in May to 7.8% in June with rural unemployment rising by 1.4 percentage points to 8%. However, pickup in economic activity saw the unemployment rate in urban India decline by 0.9 percentage points to 7.3%, which is the lowest unemployment rate in India in 16 months. As things normalize in the manufacturing, trading and services sector including in travel and tourism as also real estate, more employment is expected to be generated.
To the LocalCircles' survey query on "how do you realistically foresee India leveraging its demographic dividend by creating enough employment or entrepreneurship opportunities in the next five years" 39% out of over 9000 respondents were overly optimistic on both counts, while 43% felt only some new jobs will be created but many small enterprises would emerge on the scene. On the other hand, 7% felt that economic growth will not lead to job creation or new small entrepreneurs emerging on the scene while 9% feared shrinking job market and failure of many small entrepreneurs. During Covid, the largest impact was felt on the small and medium enterprises not only due to decline in trade, fewer orders from big enterprises to which many of them are linked as suppliers but also delay in payments, hurdles in exports, and poor consumer sentiments. Ahead of the festive season, so far this year consumer sentiments remain weak, according to various reports.
30% respondents not optimistic on bribery and corruption front, 25% expect corruption levels to rise in the next 5 years
While the government – both central and state governments – claim corruption and bribery levels have drastically come down due to attempts to ease business procedures including e-payment, online tax filing and clearance for business projects as well as public transactions, there are a large number of people regularly sharing experiences of harassment and bribery on LocalCircles. While transactional corruption may have reduced at the Central Government level, largely through digitization and some through behavioral change, corruption runs rampant in most State Government offices and especially at the local/district levels. Be it property registration, license renewal, traffic challan or a municipal permission, reports of corruption are common. Similarly, when it comes to doing business, seeking clearances of fire, environment or even getting a high load power connection requires bribery in most districts of India.
To the LocalCircles survey question on "how do you foresee bribery and corruption situation in India in the next 5 years" 42% of nearly 12,000 respondents expressed optimism of things improving but majority were found to be despondent. In the latter category, 30% respondents felt things are unlikely to change, 25% expects corruption levels to rise, while 3% were uncertain. According to Transparency International's new report released in January this, India's rank improved one place to 86 among 180 countries in a corruption perception index (CPI) of 2021. The index ranks countries "by their perceived levels of public sector corruption", as determined by expert assessments and opinion surveys.
57% believe not much is likely to change on social stability front; 40% expect social stability in India to improve in the next 5 years
Focusing on another sensitive issue, the LocalCircles survey sought the opinion of citizens across the country on "how do you realistically foresee India's social stability (ability of citizens of different caste and region to live with each other in harmony) changing in the next five years? Of the over 10,000 respondents, only 40% were optimistic of things improving while 57% felt not much is likely to change. As many as 33% respondents however are fearful that the social fabric of the society would deteriorate in the next 5 years. This fear goes against the nation's forefathers' pride that India believes and adheres to "unity in diversity" or high level of tolerance to promote harmony as denoted by the often-repeated phrase "Vasudhaiva Kutumbakam" meaning the world is one family.
Covid-19 changed people's lives; 60% respondents feel the virus will linger in some form with most having immunity: 36% fear it will cause long term health issues for some
Given that we are still to fully recover from the setback due to the global health pandemic, LocalCircles sought to gauge the public perception on "how do you foresee the Covid situation changing in the next five years". The question received 11,757 responses. Of these, 60% felt the virus will still be there in some form but the majority will have immunity against it, given that some people in the country have received one to three doses of the vaccines made available through government and private hospitals and clinics. However, 36% of the respondents fear that the pandemic will persist, causing health issues due to re-infection or prolonged illness. One of the areas that the world and India continue to underestimate is long term impact of COVID re-infections according to some citizens. While the majority in India believes that either COVID is gone or it is a viral type of disease, leading scientists studying COVID believe the same is not true. Surveys by LocalCircles indicate that nearly 8% in the country post their COVID infection have new persisting conditions like brain fog, high blood pressure, heart disease, etc. A sizable 36% believing that the pandemic will persist over the next 5 years is something that the Government, health care industry and the civil society needs to note and prepare for.
Highest number of survey respondents believe creating enough employment and livelihood opportunities will be India's top challenge in the next 5 years
To the final question on what they foresee as the top challenge in the country over the next 5 years, 43% placed creating employment and livelihood opportunities on the top of the list, 17% felt sustaining economic growth at high levels, 13% stated that keeping inflation and price rise in check, while another 12% expressed concerns on the need to maintain communal harmony.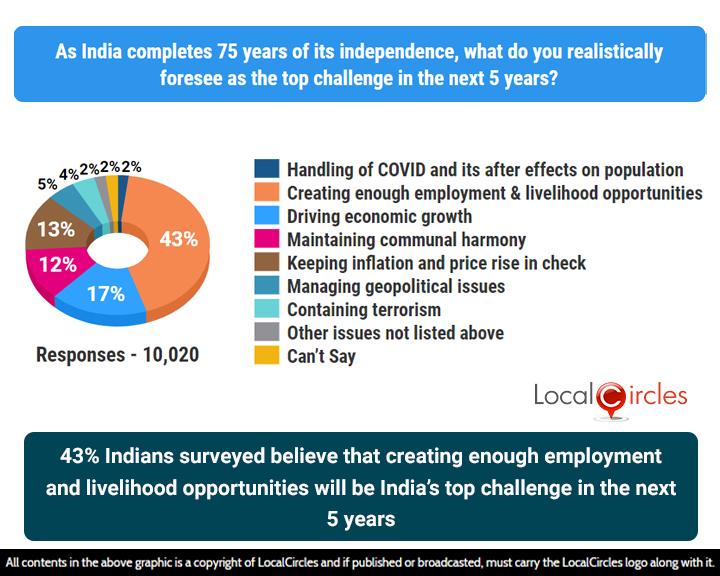 In summary, while there is considerable optimism about India's economic growth prospects and growing clout in the world, the citizens are mindful of the multiple challenges facing the country and in turn the people right from creating employment and promoting entrepreneurship to maintaining social harmony and boosting health infrastructure. With people identifying key areas of concerns, the need of the hour is for the leaders of Central and State Governments to take each one of these challenges head on. The three areas of employment and livelihood creation, reducing corruption and improving social stability need clear action plans with measurement metrics. Similarly, a well laid out plan is needed to handle rising cases of Long Covid and re-infections not just in big cities but at district levels. As they say, India isn't the tiger but the elephant which takes a while to move but when it does move, it can take some giant steps. India has proven this lately with mobile connectivity, digital identification and digital payments and now is the time for the elephant to take those same giant steps in critical areas identified by its people.
Survey Demographics
The survey received over 79,000 responses from citizens located in 371 districts of India. 64% respondents were men while 36% respondents were women. 41% respondents were from tier 1, 33% from tier 2 and 26% respondents were from tier 3, 4 and rural districts. The survey was conducted via LocalCircles platform and all participants were validated citizens who had to be registered with LocalCircles to participate in this survey.
About LocalCircles
LocalCircles, India's leading Community Social Media platform enables citizens and small businesses to escalate issues for policy and enforcement interventions and enables Government to make policies that are citizen and small business centric. LocalCircles is also India's # 1 pollster on issues of governance, public and consumer interest. More about LocalCircles can be found on https://www.localcircles.com
All content in this report is a copyright of LocalCircles. Any reproduction or redistribution of the graphics or the data therein requires the LocalCircles logo to be carried along with it. In case any violation is observed LocalCircles reserves the right to take legal action.
Enter your email & mobile number and we will send you the instructions.
Note - The email can sometime gets delivered to the spam folder, so the instruction will be send to your mobile as well