46% Indians surveyed have low or zero trust in Google reviews and ratings: Majority find them to be either positively biased or inaccurate
---
● 45% of those surveyed find Google ratings and reviews to be "inaccurate"
● 37% of those surveyed find Google ratings and reviews to be positively biased
● 88% of those who go on Google to find contact details/ location of a business often go through reviews/ratings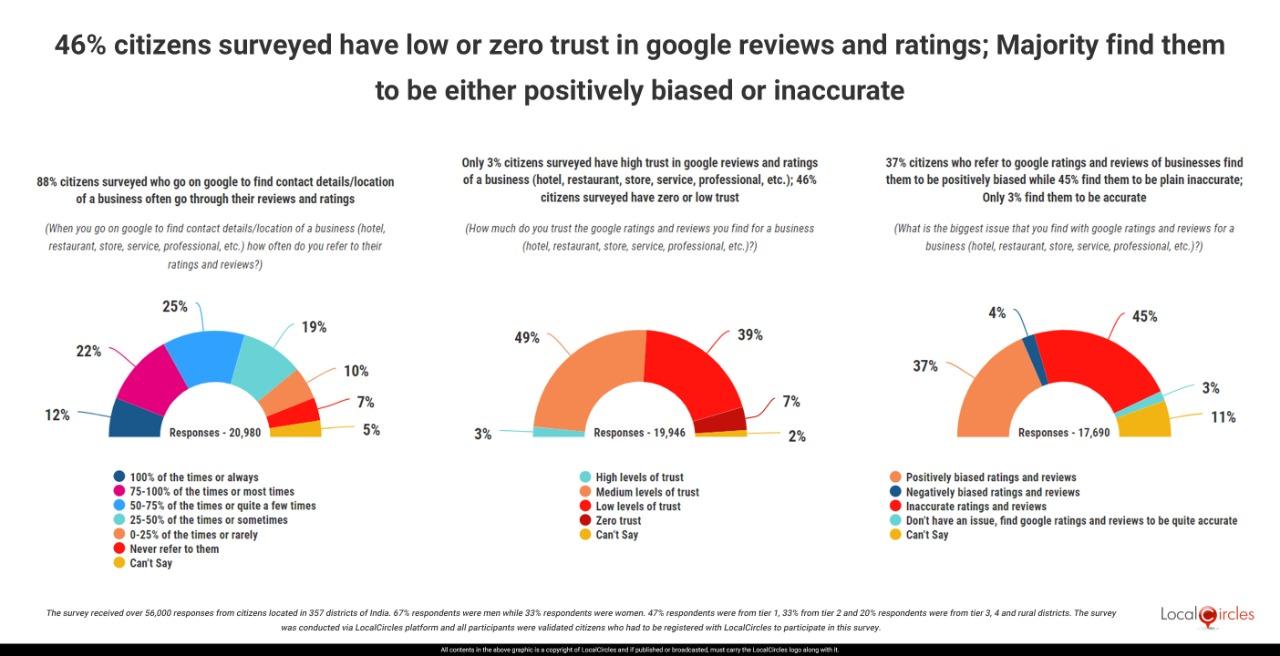 December 13, 2022, New Delhi: The new Bureau of Indian Standards (BIS) guidelines to safeguard customers from fake online reviews of products came into effect from November 25th, 2022. The new guidelines, prescribing specific responsibilities for the review author and the review administrator, are now applicable to every online platform operating in India – both global and homegrown - which publish consumer ratings and reviews. The guidelines were finalized after extensive consultation with various ecommerce and online platforms, industry associations as well as consumer platforms.
"We will first see voluntary compliance of these guidelines and if we see the menace of fake reviews continuing to grow, we may make these guidelines mandatory," Rohit Kumar Singh, secretary of the Department of Consumer Affairs told media. The guidelines came into being after the Department of Consumer Affairs received several complaints about fake reviews online. "The new guidelines for online reviews are designed to drive increased transparency for both consumers, brands, businesses and service providers and to promote information accuracy," said Sachin Taparia, Founder of community platform LocalCircles, who made the initial submission to the Department of Consumer Affairs in June 2022 and was part of the BIS committee that drafted the guidelines.
While some concerns were raised by consumers about ratings and reviews on ecommerce platforms selling products and services, a lot more concerns were raised by consumers on LocalCircles about Google ratings and reviews. One of the primary issues that people have is the ability of anyone to rate an entity, product or service on Google thereby leaving lot of scope for fake, excessively positive, negative and misleading ratings and reviews. To quantify the consumer pulse on Google ratings and reviews, LocalCircles conducted a national survey which received over 56,000 responses from citizens located in 357 districts of India. 67% respondents were men while 33% respondents were women. 47% respondents were from tier 1, 33% from tier 2 and 20% respondents were from tier 3, 4 and rural districts.
88% citizens surveyed who use search engines to find contact details/location of a business often go through their reviews/ratings
The first question in the survey attempted to understand whether people refer to ratings and reviews of businesses. It asked them, "When you go on Google to find contact details/ location of a business (hotel, restaurant, store, service, professional, etc.) how often do you refer to their ratings and reviews?" Of the nearly 21,000 respondents to this question 12% admitted that it influences their decision "100% or always"; 22% stated it was a major factor "75-100% or most times"; 25% indicated "50—75% of times or quite a few times"; 19% pointed to 25-50% of the time or sometimes"; 10% of respondents stated 0-25% of the times or rarely"; and just 7% stated "never refer to them". Remaining 5% gave no clear response. The fact that 88% of those surveyed, who search for business information online, indicated that they refer to ratings and reviews on Google shows their importance.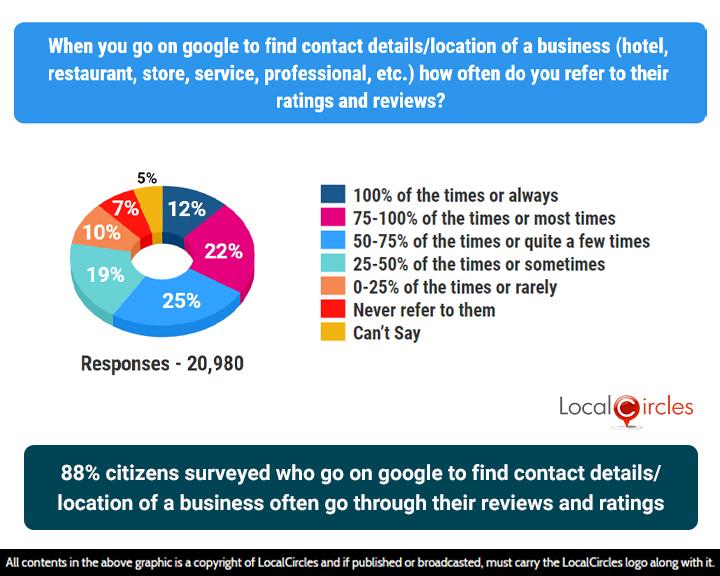 Only 3% citizens surveyed have high trust in google reviews and ratings while 46% citizens surveyed expressed low or no trust
The next question in the survey attempted to quantify the level of trust consumers have in google ratings and reviews. It asked "How much do you trust Google ratings and reviews you find for a business (hotel, restaurant, store, service, professional, etc.)?" Nearly 20,000 responded to this query. Interestingly only 3% of those surveyed stated that they have "high levels of trust" in the ratings and reviews posted on Google and 7% have "zero trust". Between the two extremes 49% have "medium levels of trust", 39% have "low levels of trust", and 2% declined to share their views.
The credibility of Google reviews and ratings continues to be a big question in the mind of consumers. This is because anyone is allowed to rate or review a business, product or service without any validating of they experiencing it. To make things worse, creating a gmail account for the longest time has not required a phone number or a Government identification and these accounts can be used to create fake ratings that could be positive or negative depending on the incentives and biases. In India, a large number of entities exist whose primary business is online reputation management. These entities work with brands and businesses for a few and engage to generate positive ratings and reviews for them on platforms like google. Similarly, they are available for hire if one wants to reduce the rating or create negative reviews for their competition. Practices like these are common.
Among those surveyed 45% had issues with "inaccurate ratings and reviews" and 37% felt they were "positively biased ratings and reviews"
The next question in the survey strived to find out how most people find these ratings and reviews from a bias standpoint. It asked respondents, "What is the biggest issue that you find with Google ratings and reviews for a business (hotel, restaurant, store, service, professional, etc.)? Of the 17,690 respondents to this query just 3% stated that they "don't have any issue and find Google ratings and reviews to be quite accurate" and 11% gave no clear response. But the majority of the respondents had issues with the ratings/ reviews – 4% found them to be "negatively biased ratings and reviews", 45% felt they were just "inaccurate" and 37% indicated that they generally find them to be "positively biased". This validates the consumer concern raised on LocalCircles that many of the ratings and reviews have a positive bias.
While the IS 19000: 2022 guidelines provide a framework for online reviews and ratings, platforms like Google must make structural changes to comply. These include ensuring that every user account that is submitting a rating or a review must be validated and tied to a phone number, real email or some Government issued identification. That will ensure that people are rating and reviewing with accountability to some extent. In addition to that, Google must consider deploying technology to detect unusual activity and patterns. It is common to see that a business or brand will have hundred reviews over a year and then suddenly within a month have 100 five-star reviews and ratings. If Google decided to right this, it could decide to not publish these ratings basis IP addresses and other data points. Similarly, there should be user declarations sought by Google to ensure that they do not have a conflict of interest and are not incentivized to rate that particular entity. It won't be perfect because of reliance on the user, still it is likely to discourage many users from such activity. The key here is to understand that such changes will only lead to making Google reviews and ratings more accurate and hence drive more consumers to refer to that information than today. The question is, will Google take the first step to comply, that too, just in India?
Survey Demographics
The survey received over 56,000 responses from citizens located in 357 districts of India. 67% respondents were men while 33% respondents were women. 47% respondents were from tier 1, 33% from tier 2 and 20% respondents were from tier 3, 4 and rural districts. The survey was conducted via LocalCircles platform and all participants were validated citizens who had to be registered with LocalCircles to participate in this survey.
About LocalCircles
LocalCircles, India's leading Community Social Media platform enables citizens and small businesses to escalate issues for policy and enforcement interventions and enables Government to make policies that are citizen and small business centric. LocalCircles is also India's # 1 pollster on issues of governance, public and consumer interest. More about LocalCircles can be found on https://www.localcircles.com
All content in this report is a copyright of LocalCircles. Any reproduction or redistribution of the graphics or the data therein requires the LocalCircles logo to be carried along with it. In case any violation is observed LocalCircles reserves the right to take legal action.
Enter your email & mobile number and we will send you the instructions.
Note - The email can sometime gets delivered to the spam folder, so the instruction will be send to your mobile as well