Mood of the consumer: Squeezed by price rise, 38% households are cutting on discretionary spending
---
• 67% said they will spend nothing or just on basics this festive season
• 39% want to make one or more major purchases in the next 12 months
• 60% see a squeeze situation when it comes to earnings and expenses
• 58% see their annual earnings staying flat or decreasing in the next 12 months
18th September 2018, New Delhi: The festive season is just a few months away. It is the time when everyone wants to spend on gifts and do those much-awaited upgrades of the home appliances. But the roof touching fuel prices have put a dent in the pre-festive season spirit. It is a big burden on the middle-class Indians and many of them are scrambling and cutting household expenses to adjust with the rising fuel prices. LocalCircles conducted a 5-poll survey to check the mood of the consumer ahead of the festive season.
When asked how their household is adjusting spending with the rising fuel prices, 51% in the first poll said that they did not need much adjustment as the impact of rising fuel prices on them and their family was limited. 30% said they had reduced discretionary spending like leisure travel, eating out, shopping etc. while 8% said they will reduce their discretionary spending soon. 11% have shifted to vehicle pooling and public transport.
Given high fuel prices, 38% households have already reduced discretionary spending or plan to very soon
After the last price revision, a litre of petrol is almost touching Rs 90 in Mumbai and above Rs 81 per litre in Delhi. This is putting a huge strain on the pockets of the consumers.
People were asked how much as a household do they plan to spend in the next 60 days (Sep-Nov) towards the festive season. 44% said plan to spend up to Rs. 10,000 towards festive basics while 30% said they plan to spend Rs. 10,000 – Rs. 50,000 during the festive period. 3% said they will be spending luxuriously, i.e. more than Rs. 50,000 towards the festive season. 23% said they will not spend anything.
67% citizens say they will spend nothing or just on basics this coming festival season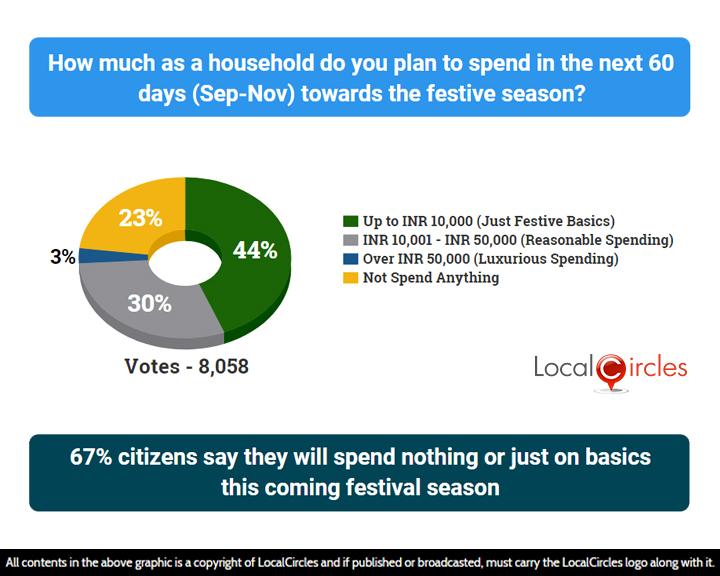 When asked about major purchases, 18% said they plan to buy real estate, upgrade their house or jewellery in the next 12 months while 8% plan to buy an automobile. 13% plan to buy electronics or appliances worth Rs. 50,000 or more and 61% do not plan to make any major purchases
39% citizens plan to make one or more major purchase (INR 50000+) in next 12 months
The following question asked consumers how their household position has been in the last 12 months on the earnings and expenses front. 16% said earnings have risen significantly more than the expenses, and 24% said earnings have risen slightly more than the expenses. 22% said earnings have risen less than the expenses leading to a squeeze situation while 38% said that earnings have been flat, but expenses have risen significantly and it's a distress situation.
60% households feel either squeezed or distressed when it comes to their earnings and expenses
This shows that almost 60% households feel the squeeze and 22% of them are experiencing financial distress because of expenses increasing being higher than rise in earnings in the last 12 months.
38% in the final poll on future earnings and expense outlook expect their annual earnings to stay the same in the next 12 months and 20% even expect it to decrease. Only 12% see it increasing by over 15% and 30% see it increasing by up to 15%.
58% households expect their annual earnings to stay flat or decline in the coming 12 months
With all that being said, the festive season does bring in an atmosphere of hope and positivity. Consumers hope that the state and central government both will take some measures to bring the fuel prices down to help the common citizen.
Poll Demographics and Participation
Over 38,000 responses were received from over 15,000 unique citizens located in 220 districts of India. Approximately 37% of the respondents were women while 63% were men. 45% of the participants were from Metro/Tier 1 cities, 34% from Tier 2 cities and 21% were from Tier 3 and rural locations.
You may also like:
About LocalCircles
LocalCircles takes Social Media to the next level and makes it about Communities, Governance and Utility. It enables citizens to connect with communities for most aspects of urban daily life like Neighborhood, Constituency, City, Government, Causes, Interests and Needs, seek information/assistance when needed, come together for various initiatives and improve their urban daily life. LocalCircles is free for citizens and always will be!
All content in this report is a copyright of LocalCircles. Any reproduction or redistribution of the graphics or the data therein requires the LocalCircles logo to be carried along with it. In case any violation is observed LocalCircles reserves the right to take legal action.