Only 51% find the implementation of demonetization program good
---
Highlights
• 24% citizens call the implementation Poor while another 25% call it Average
• Very high majority of citizens support the cause of demonetization to reduce black money
• Citizens of certain states experiencing more pain than others
• Citizens appreciate Govt taking corrective actions on feedback over the course of the week
November 18, 2016, New Delhi, India: Citizens of India are almost split 50:50 in how the Currency Demonetization program has been implemented. Only 51% found the implementation to be good given the circumstances while 24% citizens have explicity called out the implementation as poor. Another 25% citizens called the implementation average. Over 9000 citizens from across 200 cities of India participated in a survey conducted by LocalCircles on November 17th.
While currency demonetization was a drastic step, citizens believe that better planning must have been done by the Government to avoid long queues at atms and banks for over 10 days now. Also, some of the steps suggested by citizens and taken by the Government later like indelible ink use, special provision for weddings, mobile atms, cash availability for farmers should have been included early on. Several other suggestions like deployment of retired staff at banks and post offices, special provisions for senior citizens and women are still not announced.
LocalCircles members after the first few days had highlighted that 40% of the people in ATM and Bank lines were standing for someone else and 44% of the ATMs were not functional when they were supposed to.
Going forward, citizens have suggested that added measure must be taken to minimize rush at banks and atms in the first week of December and the Government must crack down heavily on black to white money conversions that are still taking place.
While citizens are not so happy with the implementation, support for the cause of demonetization remains strong with 79% saying they don't mind the inconvenience, another 18% saying its been painful but they still support it. Only 3% citizens said that they were against this step of the Government.
Demonetization Implementation Success Poll – Conducted Nov 17, 2016
Demonetization Citizen Support Poll – Conducted Nov 15, 2016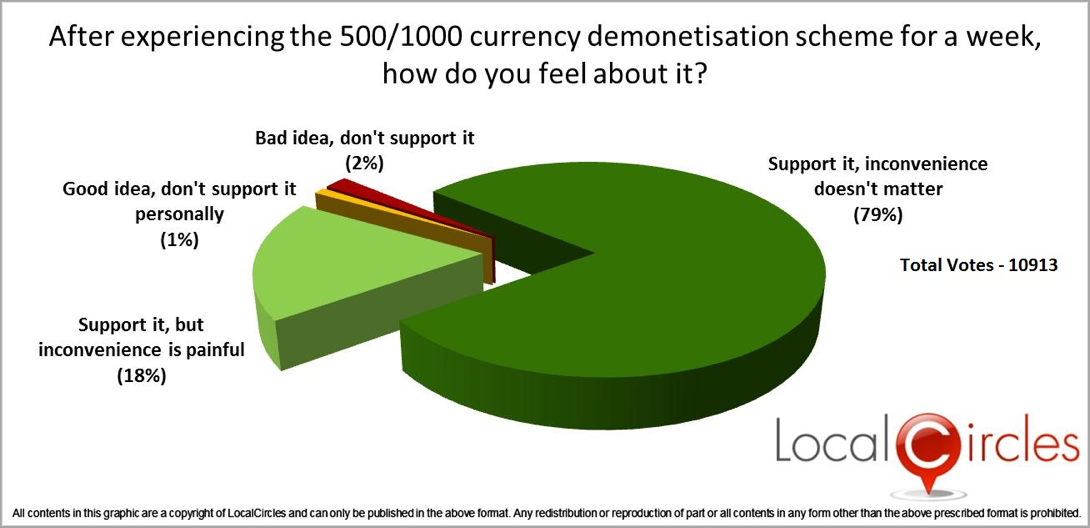 About LocalCircles
LocalCircles, India's leading Community Social Media platform takes Social Media to the next level and makes it about Communities, Governance and Utility. It enables citizens to connect with communities for most aspects of urban daily life like Neighborhood, Constituency, City, Government, Causes, Interests and Needs, seek information/assistance when needed, come together for various initiatives and improve their urban daily life. LocalCircles is free for citizens and always will be!