59% residents rate Tamil Nadu Government's handling of COVID 2nd wave as effective
---
● Tamil Nadu ranked 1st amongst 17 states of India where the survey was conducted
June 30, 2021, New Delhi: The 2nd wave of SARS-CoV2 that caused havoc in the months of April and May has tested the pulse of every State Government of the country and their efficiency to handle the outbreak vis-à-vis Governance. Just when the country had started to recover from the 1st wave of the pandemic, the COVID-19 and its variants started taking a toll at an unprecedented pace, from the highest 97,400 daily spike (September 10th, 2020) to less than 10,000 cases (1st week, February 2021), which then increased close to 47,000 (3rd week, March) and reached its peak to more than 412,000 cases (1st week, May 2021). The wailing sound of ambulances ferrying COVID patients for days and nights had been a routine at the time. Most hospitals in cities crumbled to provide adequate treatment to those patients waiting in line for the treatment due to an increase in cases. Even crematoriums in major cities ran out of space as bodies were brought for final rites. Overall, the 2nd wave of the pandemic has caused a devastating effect on India and its citizens that will be etched for many years to come.
From the daily COVID cases of below 500 during the end-February, Tamil Nadu started to experience a sudden surge in the test positivity rate that reached its peak on May 21 with a 36,184 single-day spike. The 2nd wave of COVID arrived a month later in Tamil Nadu as compared to rest of the country. It also has a relatively better hospital infrastructure than many other states. As early precaution, the State imposed restrictions in workplaces, public places and educational instituions at the end-April. Additionally, the State Government's website, related to Covid-19 has been giving a real-time update on the availability of beds in hospitals spread across multiple districts, along with the classification of normal beds and oxygen-supported beds. The State introduced micro-containment, set up static and mobile fever camps, testing & screening centers to triage the positive patients to hospital. However, the Tamil Nadu Government was criticised for overlooking COVID protocol during campaign rallies for State Elections. Despite the State's effort, the surge resulted in hospitals facing shortages of oxygen cylinders & concentrators, ventilator beds, ICU beds, Covid management medicines, COVID test facilities, related supplies and equipment.
The Tamil Nadu Government imposed full lockdown and restriction on public movement since May 8 to contain and mitigate the COVID spread. In the aftermath of over a month of lockdown, the COVID-19 daily cases were at 16,000 to 20,000 during the 2nd week of June. There has been a steady increase in the recovery rate, with an increase in the availability of ICU beds and ventilators in both private and public hospitals, while the vaccination drive is in full swing.
In the aftermath of all the developments in the 2 months of the 2nd wave of COVID-19, LocalCircles has gone back to the citizens of Tamil Nadu asking them to rate their State Government's performance on the overall handling of the outbreak. This allows both the broader citizenry and the Government to understand where things stand and what needs to be worked upon. This is vital to effectively handle the 3rd wave, which is likely to hit India in 6-8 weeks, as suggested by experts. Medical experts have warned about a new, more infectious Delta Plus variant and emphasised on the importance of continuing to wear a double mask, follow proper hygiene, and maintain social distance. The survey received 3120 responses from residents of Tamil Nadu.
59% Tamil Nadu residents rate Tamil Nadu Government's handling of COVID 2nd wave as effective
The question in the survey asked residents of Tamil Nadu,"How do you rate your state (Tamil Nadu) Government's handling (availability of testing, containment, hospital beds, oxygen, medicines, etc.) of the COVID 2nd wave?" In response, 32% of citizens said "very effective" and 27% said "effective" while another 27% said "somewhat effective". 11% of Tamil Nadu residents surveyed rated the Tamil Nadu Government's handling of COVID 2nd wave as "ineffective" while 3% couldn't say. None of the respondents rated the State Government's handling as a Total Failure. On an aggregate basis, 59% of Tamil Nadu residents rated the Tamil Nadu Government's handling of COVID 2nd wave as effective or higher. 3,120 responses were received on the survey.
Overall, the residents of Tamil Nadu after what they witnessed in the last 2-month period are satisfied with the Tamil Nadu Government's handling of COVID 2nd wave in the state. This is evident with 59% of Tamil Nadu residents rating the State Government's handling of COVID 2nd wave as effective. The Tamil Nadu Government was led by AIADMK leader Edappadi Palaniswami till April-end of this year then after the Assembly election with DMK coming to power, its leader MK Stalin took over as the Chief Minister on May 7. However, despite the transition in political parties, the system of healthcare and handling of COVID-19 did not get impacted and continued through the transition. As Tamil Nadu Government works on getting ready to handle the 3rd wave, it is critical that all aspects starting from testing, containment, hospital beds availability, readiness to handle child cases of COVID, doctors and medical staff, equipment like ventilators, BIPAP machines, concentrators, medicines and all things COVID are available in sufficient quantities. Also, it is critical that information flow is significantly improved and centralised such that citizens call a single number and based on their condition, location, preferences, budget are assigned the right hospital. Similarly, it is key that the patient information dissemination is streamlined, and hospitals can communicate with the family on the patient's current health condition in a timely manner.
Ranking of Indian States in handling 2nd Wave of COVID-19
Overall, findings of the LocalCircles' survey indicate that Tamil Nadu ranked 1st amongst 17 states of India where 59% of residents have rated the Government of Tamil Nadu's handling of COVID 2nd wave as high. The ranking of Indian states in handling the 2nd wave of COVID-19 indicate that Tamil Nadu, Andhra Pradesh and Uttar Pradesh residents have rated their respective State Governments' handling of COVID 2nd wave as high. Meanwhile, rating of Bihar and West Bengal were the lowest.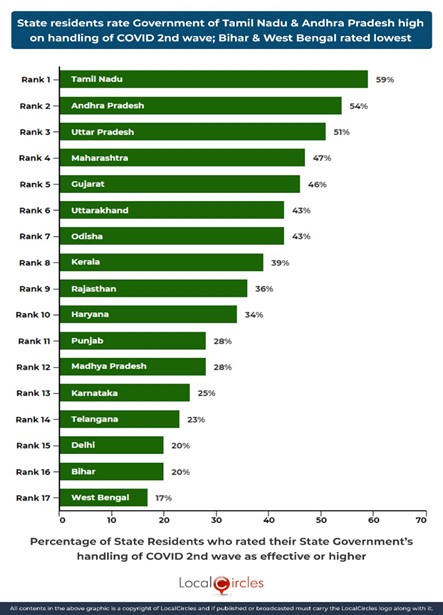 National Press Release
As citizens rate their state Governments on COVID 2nd wave handling via LocalCircles, Tamil Nadu and Andhra Pradesh emerge at the top
Survey Demographics
The survey received 3120 responses from people residing in Tamil Nadu. The survey was conducted via LocalCircles platform and all participants were validated citizens who had to be registered with LocalCircles to participate in this survey.
About LocalCircles
LocalCircles, India's leading Community Social Media platform enables citizens and small businesses to escalate issues for policy and enforcement interventions and enables Government to make policies that are citizen and small business centric. LocalCircles is also India's # 1 pollster on issues of governance, public and consumer interest. More about LocalCircles can be found on https://www.localcircles.com
All content in this report is a copyright of LocalCircles. Any reproduction or redistribution of the graphics or the data therein requires the LocalCircles logo to be carried along with it. In case any violation is observed LocalCircles reserves the right to take legal action.