As COVID surges in China, 76% Indians surveyed now in favour of making masking mandatory in indoor public places like malls, cinema halls & places of worship
---
● Also want masking mandatory in crowded outdoor spaces like train stations, bus stands, etc.
● 57% surveyed had demanded mandatory masking in flights and airports last week which is still awaiting Government action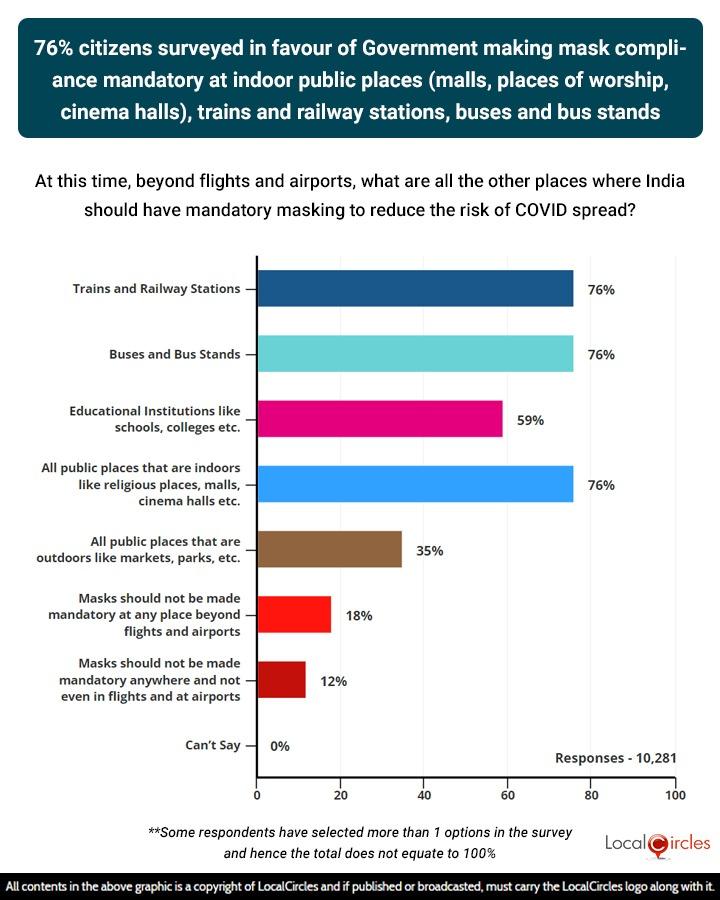 December 29, 2022, New Delhi: Potential threat of a resurgence of the COVID virus in the country as new BF.7 mutations and other Omicron sub-variants spread across China has got a sizable number of Indians worried. The images and videos from China show a dire situation at hospitals and crematoriums and forecasts by public health experts are extremely gloomy with over a million deaths projected in the country alone by the time this wave subsides.
Following the resurgence of health threats in China, on Dec 24th, India announced that RT-PCR tests will be mandatory for international passengers coming from China, Japan, South Korea, Hong Kong and Thailand. Despite the World Health Organisation (WHO) seeking "more detailed information on disease severity, hospital admissions and requirement for ICU support", China has been sharing very little information including on genome sequencing. London based analytics company Airfinity has estimated that China may already be recording over a million new infections and at least 5,000 deaths every day.
Taking lessons from the past, India is now gearing up for any possible exigency. Following the drop in positive cases after the first wave of COVID in 2020, India decision makers and public in general had started relaxing their guard when the second wave hit in 2021, affecting more people and in more severe form, leading to thousands of deaths and many continuing to face severe health issues. Taking a lesson from that, the prime minister has directed state governments to step up testing, ensure operational readiness of hospital infrastructure including supply of oxygen cylinders etc. Union Health Minister Mansukh Mandaviya has also held high-level meetings with officials followed by another round with state ministers to review the COVID-19 situation in India - preparedness of the public health system for its surveillance, containment and management. Underlying and reiterating that Covid is not over yet, the health minister has urged people to follow Covid appropriate behaviour and get vaccinated against COVID.
However, despite all the above, masking in flights and at airports continues to be optional. Last week, a LocalCircles survey found that only 7% fliers said masking in flights and airports was effective and 57% said in light of the new threat, it should be mandated. On a daily basis, as India does random testing at international airports, it is finding travelers who are COVID positive. On Dec 26th, 12 travelers coming from high risk countries to Bangalore were found to be COVID positive and on Dec 27th, 13 arriving at the New Delhi international airport were reported to be COVID positive.
Based on regularly flowing public feedback on the new COVID threat and assuming that the Government will soon implement the public ask of mandatory masking at airports and in flights, LocalCircles has strived to find out what people desired collectively in terms of safety beyond masking at airports and in flights. Over 10,000 citizens responded to the new survey question which asked, "Beyond flights and airports, what are all the other places where India should have mandatory masking to reduce the risk of COVID spread?". Some of the respondents opted for more than one option. 76% of the respondents said masking should be made mandatory in all indoor public places like malls, cinema halls, places of worship like temples, mosques, churches and gurudwaras, etc. In addition, 76% wanted it to be mandatory in buses and bus stands, in trains and railway stations as these spaces experience crowding regularly in India. Apart from these three categories 59% of respondents want masking to be made mandatory again in educational institutions like schools and colleges while 35% want it also to be mandatory in all outdoor public places like parks and markets. There is another group which is not keen on enforcement of masks. Data shows that 18% don't want masks to be made mandatory in any place apart from airports and onboard flights and 12% are for not enforcing masks anywhere.
In summary, the survey reveals that with the COVID threat rising in China and several other countries worldwide, Indians are also getting concerned. With memories of Feb-March 2021 and later in Dec 2021, where people thought that COVID was done and dusted, it again made a comeback, a lethal one via the Delta variant in April 2021 and a highly infectious one in Jan 2022. Hence, a sizeable 76% of the 10,281 respondents to the pan India study are supportive of masking being made mandatory in all indoor public places like malls, cinema halls, places of worship and in crowded spaces like trains and train stations and buses and bus stands. Almost 60% are even supportive of masking being made mandatory in schools and colleges. With support of people at high levels and limited or no visibility into the causes of surge in China and worldwide travel into India being fully open, the Government should move swiftly and act including on the recommendation of mandatory masking at airports and flights. Once the global COVID threat reduces in a few months, the country can always go back and relax its COVID norms.
Survey Demographics
The survey received over 10,000 responses from citizens located in 301 districts of India. 61% respondents were men while 39% respondents were women. 46% respondents were from tier 1, 34% from tier 2 and 20% respondents were from tier 3, 4 and rural districts. The survey was conducted via LocalCircles platform and all participants were validated citizens who had to be registered with LocalCircles to participate in this survey.
About LocalCircles
LocalCircles, India's leading Community Social Media platform enables citizens and small businesses to escalate issues for policy and enforcement interventions and enables Government to make policies that are citizen and small business centric. LocalCircles is also India's # 1 pollster on issues of governance, public and consumer interest. More about LocalCircles can be found on https://www.localcircles.com
All content in this report is a copyright of LocalCircles. Any reproduction or redistribution of the graphics or the data therein requires the LocalCircles logo to be carried along with it. In case any violation is observed LocalCircles reserves the right to take legal action.
Enter your email & mobile number and we will send you the instructions.
Note - The email can sometime gets delivered to the spam folder, so the instruction will be send to your mobile as well