As rupee falls from 38 to 80 against US dollar in last 15 years, 3 in 4 Indians surveyed believe it will impact them adversely
---
● 52% expect impact due to higher transport and cooking fuel costs, cost of essential products and services
● 52% expect goods and services to cost more, particularly healthcare and medicines
● 44% are concerned about higher overseas travel costs
● 24% fear impact on overseas education plans for children/ grandchildren
● 1 in 2 Indians surveyed believe that in relative terms, Indian economy has performed poorlyin the last 15 years
July 25, 2022, New Delhi: The Indian rupee last week crossed its all-time low exchange rate of 80 against the US dollar. This means that the dollar to rupee rate has moved from 1:38 in July 2007 to beyond 1:80 in July 2022 in relative economic terms.
Given the massive rupee depreciation, LocalCircles via its latest survey has attempted to understand the pulse of citizens on how they view India's performance in relative economic terms in the last 15 years and whether they have concerns about weakening rupee's impact on their lives. The survey received over 34,000 responses from citizens located in over 328 districts of the country of which 65% respondents were men while 35% respondents were women; 43% respondents were from tier 1, 34% from tier 2 and 23% respondents were from tier 3, 4 and rural districts.
The first question in the survey was, "The Dollar to Rupee rate has moved from 1:38 to beyond 1:80 from 2007 to 2022. Do you believe that India, in relative economic terms, has performed poorly in this 15-year period?" In response, 47% said "Yes, absolutely". Breaking down the poll data, 41% of citizens said "No, we have not performed poorly" while 12% were undecided. This means that 1 in 2 Indians surveyed believe that India in relative economic terms has performed poorly given the massive rupee depreciation from INR 38 per USD in 2007 to INR 80 per USD in 2022. This question in the survey received 11,207 responses.
With massive rupee depreciation (from INR 38 for a US Dollar to INR 80 for a US Dollar) in the last 15 years, 1 in 2 Indians surveyed believe that in relative economy terms India has performed poorly
Several factors are responsible for the depreciation of Indian rupee against the US dollar despite various steps taken by the Reserve Bank of India (RBI) and the central government to attract capital inflows to slow the pace of rupee's decline. Chief among the factors at this juncture is the high outflow of foreign investment. Official estimate is that nearly $31.5 billion was pulled out between the beginning of FY22 and July 15.
Experts point out that it is not only the Indian rupee which has been hit as the Dollar Index has this year gained 13% against six major currencies - euro, pound, yen, Swiss franc, Canadian dollar and Swedish krona. Since the Russia-Ukraine war, the RBI has been closely monitoring the foreign exchange market. It has also been using its reserves as and when required.
The central bank and the government has over the last few weeks taken steps to boost the foreign exchange reserves by taking steps to improve remittances to India. The fifth round of the remittances survey by RBI for 2020-21 finds that the share of Gulf countries in total remittances has declined, reflecting slower pace of migration and presence of Indian Diaspora in informal sectors which was hit the most during the pandemic period.
Amidst ongoing rupee weakness, the RBI has announced steps to reduce demand for foreign exchange by promoting rupee settlement of trade – both exports and imports – flows. To support the increasing interest of the global trading community in Indian rupee, it has been decided to put in place an additional arrangement for invoicing, payment, and settlement of exports / imports in rupee after prior approval.
RBI in its July bulletin states that "in a global landscape marred by fears of recession and war, the Indian economy shows resilience. The recent revival of the monsoon, the pick-up in manufacturing and services, stabilisation of inflation pressures and strong buffers in the form of adequate international reserves, sufficient food grain stocks and a well-capitalised financial system together brighten the outlook and strengthen the conditions for a sustainable high growth trajectory in the medium term".
In the next question, as many as 76% of 10,778 respondents expressed concern that they and their family will be able to afford less in the next five years as higher import costs will get reflected in products they buy right from petrol and diesel to consumer goods and services and even overseas education, which would impact increasing number of students seeking to pursue higher education. Just 18% of the respondents to the survey felt further depreciation of rupee will not impact them or their families in the next five years, while 6% were undecided.
3 in 4 Indians surveyed concerned that with the recent rupee depreciation and what's expected, they and their families will be able to afford less in the next 5 years
Responding to the next question "what are all the areas you are concerned" about the impact of the weakening rupee, 52% out of 12,176 participants in the survey pointed to rising costs of petrol, diesel and LPG, used as cooking fuel in most households in the country. An equal percentage of respondents feared that a weakening rupee would adversely impact them and their families as food, medicines and overall healthcare costs go up. Their fear seems to have basis as India continues to import a considerable amount of pharmaceutical products and medical devices despite having a thriving generic medicines industry and scaling up production of medical devices. The fact remains, that given an option, those who can afford the cost continue to buy imported devices for implants. Also, most of the medical equipment used in hospitals continues to be imported, which will necessarily get reflected in higher cost of treatment in private hospitals and laboratories.
Of those Indians who believe they and their family will be able to afford less in the next 5 years with the fall in rupee and what's expected, the key areas of decline in affordability are fuel, essential products & services, international travel & discretionary products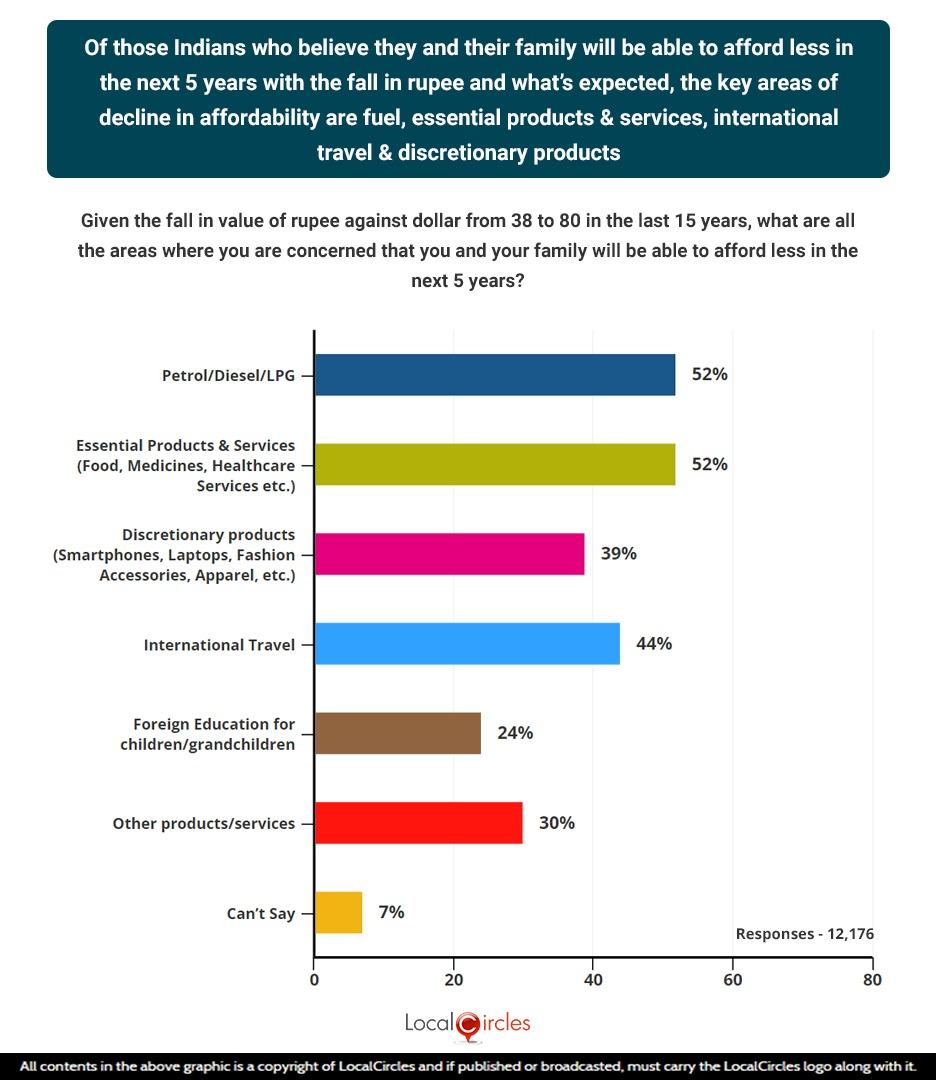 When it comes to discretionary spending on products like mobile phones, laptops, fashion accessories and apparels, 39 % of the respondents feared an impact on future purchases. Foreign travel is another area where 44 % felt the weakening rupee against USD would impact them and their families. For many who have been looking forward to overseas holidays after two years of restrictions due to Covid, the new development is a setback. Apart from leisure travel, the weakening rupee will hit students finalising plans to travel overseas to colleges they have got admission in for higher studies. The higher cost of education overseas for their children and grandchildren is a matter of worry for 24% of respondents. This concern would echo among a large number of families which have started sending their wards overseas for education right after passing out of school given the tough competition to get admission or choice of subjects in premier colleges.
Higher imported input costs together with rising transportation costs are expected to be reflected in product and services costs feared by 30% of the respondents.
In summary, the findings of the LocalCircles survey indicates that the massive rupee depreciation, which last week crossed INR 80.00 for a US Dollar, is causing concerns on many fronts as it is expected to impact prices of several important goods and services in the coming years. For 1 in 2 Indians surveyed, the weakening of rupee against the dollar from 38 to 80 in the last 15 years is a reflection that in relative terms, the Indian economy has performed poorly.
Survey Demographics
The survey received responses from over 11,000 citizens located in over 311 districts of the country. 68% respondents were men while 32% respondents were women. 45% respondents were from tier 1, 34% from tier 2 and 21% respondents were from tier 3, 4 and rural districts. The survey was conducted via LocalCircles platform and all participants were validated citizens who had to be registered with LocalCircles to participate in this survey.
About LocalCircles
LocalCircles, India's leading Community Social Media platform enables citizens and small businesses to escalate issues for policy and enforcement interventions and enables Government to make policies that are citizen and small business centric. LocalCircles is also India's # 1 pollster on issues of governance, public and consumer interest. More about LocalCircles can be found on https://www.localcircles.com
All content in this report is a copyright of LocalCircles. Any reproduction or redistribution of the graphics or the data therein requires the LocalCircles logo to be carried along with it. In case any violation is observed LocalCircles reserves the right to take legal action.
Enter your email & mobile number and we will send you the instructions.
Note - The email can sometime gets delivered to the spam folder, so the instruction will be send to your mobile as well