Citizens want next Government to create jobs, improve air quality, boost FDI and simplify GST
---
• In a unique survey focused on citizen oriented governance, citizens of India from 260+ districts highlight what they want from the next Government
20th May 2019, New Delhi: India has given its mandate. Narendra Modi has led BJP and NDA to a historic victory in the Lok Sabha elections 2019. Junta has given the Government a second term, which means that their expectations from them will also be sky high. Like every year, citizens through LocalCircles have come up with some demands they have from the Government in their next session. LocalCircles ran a large survey to check the citizen pulse on what the citizens of India want the next Government to focus on when. The survey received more than 100,000 responses from over 37,000 citizens located in 260+ districts of India.
Unemployment in India has emerged to be a huge social and political issue for decades now. The job market has been sluggish, and many people have struggled to find jobs. Cases of well qualified people taking up petty jobs to meet the needs of their families is not rare.
The first question asked what the next Government's primary model should be to address the issue of employment in India. 60% said it should reduce bureaucratic inefficiencies & corruption for Ease of Doing Business and 16% said it should attract significant FDI & domestic investment through business-friendly policies. 12% said Government should provide massive incentives to startups & SMEs, while another 12% said it should boost public & private investment in infrastructure. It seems that citizens of India believe that if doing business bottlenecks and corruption are reduced, it will lead to more investments by businesses and in turn create jobs.
Majority want next Government to focus on reducing bureaucratic inefficiencies and corruption for business as a solution to creating jobs
Job creation, or the lack of it, could turn out to be the single most talked about issue during the election build up. The unemployment rate in India is in the 6-7.5% range as per multiple surveys. In the next poll, 38% citizens said that the next Government should aim to bring it down to 4.5% in the next 5 years. 30% said it should come down to 3%, 17% said 6%, while 15% said it is okay at 7.5%.
Most people believe the next Government must take up the challenge of cutting unemployment rate by half and bring it to 3-4.5%
Since 2014, amount of foreign investment in India started climbing rapidly and many companies and countries promised to invest millions to billions of dollars into businesses in India. But in the last few quarters, the inflow of FDI has reduced, probably owing to the uncertainties revolving around the upcoming Lok Sabha elections.
Foreign Direct Investment (FDI) in the 2014-2019 period was approximately $260 Billion. FDI levels increased from $36 billion in 2013-14 to $61 billion in 2017-18. The next poll asked what the realistic 5-year FDI should be. In response, 19% said $300 billion, 18% said $ 600 billion, while 22% said more than $600 billion. 41% said it should be $450 billion. To reach this level, the average yearly FDI inflow will have to increase from around $52 billion to around $90 billion approximately.
Majority people want that the next Government should take a 5 year FDI target of atleast $450 Billion
Introduction of GST has been a transformational change. It clubbed together more than 15 different taxes and brought them under the ambit of just one tax – the Goods & Services Tax. But the 4 GST slabs have also brought some confusion with them for the general public and increased compliance costs for MSMEs. But overall, the side effects seem to be settling down now.
When asked how the Government should rationalise the Goods & Service Tax, 53% said a two rate GST structure with one rate of 5% and another of 18%. 35% said it should be left as it is with 4 tax slabs of 5%, 12%, 18% and 28%. 7% want one rate of 18% and sin/luxury product rate at 28%, while 5% voted for one flat rate of 18%.
Most people in support of a two rate GST structure with 5% and 18% tax rates
India's spending on infrastructure is set to increase many folds in the next 5 years. These infrastructure projects, mainly road, rail, air and port, will create a growth launchpad for India. Telecom is another growing sector which is receiving large domestic and international investments.
When it came to infrastructure development, 42% said the priority of the next Government should be expansion of road and highways infrastructure and 29% wanted the 100 Smart Cities to be made a reality. 15% want expansion of Air and Rail connectivity while 14% want the telecom (voice and data) infrastructure to be significantly improved.
Highest number of people want next Government's top infrastructure focus to be roads and highways
The farmer crisis in India does have some teeth and the Rs. 6000 per year payout recently announced by the Government may not help them much. Cases of farmer suicides are reported to be increasing and so is the number of farmers who are giving up farming to go and work in the metros as labourers. Although the Government is trying many things to improve the situation of the farmers, the rural wage growth has considerably slowed down in the last few years, as per reports.
When asked what the primary approach of the next Government should be to address farmer distress, only 3% chose farm loan waivers. 44% said Government should ensure MSP is 50-75% above weighted cost of production while 19% want a cash subsidy to be provided via DBT and stop subsidising food grains. 34% want Government to ensure that all farmers have access to futures pricing at all time of sowing.
A very tiny percentage of people believe that farm loan waiver will address farmer distress. Majority support MSP being 50%-75% above production cost
The Government did announce an exemption for people with an earning of up to Rs 5 lakh from payment of income tax in this year's interim budget, but the citizens want more changes to the income tax structure when the new Government announces the full budget after coming into power.
Personal income tax structure is an important piece and citizens were asked how the next Government should change it. 28% wanted no income tax up to the annual income of INR 10 lakhs and 19% wanted lower tax rates by 5% in all income brackets. 38% wanted the personal income tax to be completely abolished while 15% wanted the current tax structure to continue.
Most number of people want the next Government to abolish personal income tax and move to a transaction tax system
The Universal Basic Income Scheme conceptually sounds like a good idea but the practicality of it is a little different. Many developed countries like Switzerland and the USA have already toyed with the idea of a basic income scheme for the poor but have comprehensively rejected it as they found it could create large inequalities among citizens.
When it came to launch of a Universal Basic Income Scheme in India, 47% citizens in the next poll said that the Government should not implement a Minimum Basis Income Scheme at all. 28% said it should provide Rs. 15,000 per annum, 13% said Rs. 10,000 per annum and 12% said Rs. 6,000 per annum to those without income.
Most people believe that the next Government should not implement a Minimum Basic Income Scheme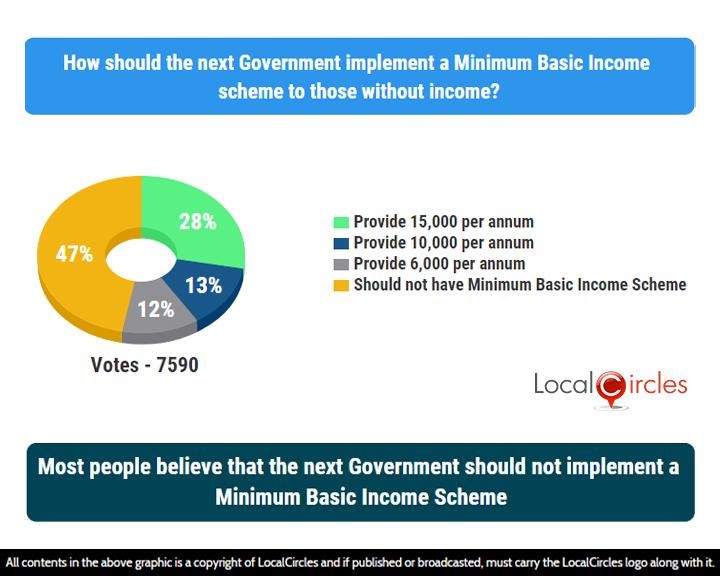 Air pollution in India is growing exponentially and India has 7 of the top 10 world's most polluted cities. With all that is going around to push the country towards the next level of growth, getting the balance right between development and environment will be a critical task that the Government will have to manage.
The PM2.5 has averaged at around 450 in most North Indian cities during the months of October 18 to January 19 making impacting health of citizens in the short, medium and long term. Citizens were asked what should be a realistic 5-year PM2.5 and PM10 reduction target (from 2018 levels) that the next Government should take upon itself. 20% said reduction by 100%, 30% said reduction by 75%, 39% said reduction by 50% and 11% said reduction by 25%.
Majority want next Government to commit to reducing pollution levels in India by 50%-75%
Looks like the world's fastest growing economy has the world's worst air quality. According to the data from a recent research, around 1.24 million people in India died due to diseases caused by air pollution in 2017. The bad air quality, especially in north India is leading to a reduction of the life expectancy of citizens. The months of October-November in particular, witness a havoc created by the cooling of air combined with the stubble burning in Punjab and Haryana.
The following question asked what the primary model of the next Government should be to address the critical issue of air pollution in India. 33% respondents said the next Government should launch a nationwide Clean Air Mission and 15% said it should fund Municipal Modernisation & Enforcement programs. 22% said mandatory relocation of all high pollution emitting industries away from city limits, while 30% said public transportation and road decongestion systems should be funded.
Highest number of people want the next Government to implement a Clean Air Mission
India spends just about 1% of its GDP on public healthcare which is far lower than the 7-9% that some of the European countries spend on their healthcare system. Although the health system has improved considerably over the last decade and more Government funded hospitals like AIIMS are being opened in different parts of the country, setting up systems and getting trained doctors to go from metros to these smaller cities remains a big challenge. A majority of the India population is still in the rural areas and a win for the Government would be to get the private hospitals to provide quality healthcare to these masses at affordable rates.
Highest number of people want clear focus from next Government on reducing misgovernance and malpractices in healthcare
Citizens were also asked what the primary model of the next Government should be to improve healthcare in India. 27% said Central Government run hospitals should be established in all 1 million+ population cities and 22% said effective implementation of Ayushman Bharat should be ensured. 45% said malpractices and mis-governance in healthcare should be eliminated, while 6% funding of state on healthcare to be increased.
Improving the standards and quality of education is a big task which is on the hands of the upcoming Government. Although the Government has planned the opening of many new IITs and IIMs in different parts of the country, the primary and secondary level education are the ones which need a boost, especially in the rural areas of India.
62% people in the following poll believe that the next Government must focus on improving education delivery and quality instead of simply increasing budgetary allocation. 11% said it should increase spending on education from 3.8% to over 5% of GDP while 27% said Government should ensure free & compulsory education in public schools.
62% people believe that the next Government must focus on improving education delivery and quality instead of simply increasing budgetary allocation
Last year, a report by Thompson Reuters Foundation ranked India as the most dangerous country for women in the world. This was based on the high incidences of sexual violence, lack of access to justice in rape cases, child marriage, female feticide and human trafficking etc.
51% people want the next Government to work on ensuring speedy justice in cases of women and child issues and make their safety a priority. 29% said hardest punishment should be given to those found guilty and 19% said widespread sensitisation and awareness should be created.
51% people want the next Government to work on ensuring speedy justice in cases of Women & Child issues
The Government introduced electoral bonds to reduce black money in electoral funding. Via Electoral Bonds, anyone can donate from Rs. 1000 to Rs.1 crore to political parties by buying these bonds at State Bank of India. The electoral bonds were introduced after changes in the Finance Act 2017 and were meant to curb the use of black money during elections. However, according to many people, the feature of anonymity of the donor of electoral bonds reduces the transparency in the entire process. When asked if the next Government should change the rules of Electoral Bonds so that donor identities are mandatorily disclosed. 88% citizens answered in a 'yes' while only 6% answered in a 'no'. Another 6% did not have an opinion.
88% people want the next Government to change Electoral Bonds rule so disclosure of donor identities is mandatory
Some other suggestions that the citizens made included abolishment of VIP culture, article 370 to be removed from Kashmir, renewable sources of energy to be given a push, increasing the defence budget, no work no pay to be implemented for parliamentary proceedings, restricting cash transactions to reduce black money, no reservations in education and healthcare and law enforcement agencies to be made more powerful and transparent etc.
Through this survey, citizens of India have made it pretty clear about what they want from the Government in their next session. They do not want big promises but want the new Government to get the basics right and create an environment for the holistic development of India.
Survey Demographics
More than 100,000 votes from 37,000 unique participants were polled from over 260 cities and towns across India. Approximately 31% participants were women, while the remaining 69% were men. 46% participants were from Tier 1 cities, 31% from Tier 2 cities and 23% were from Tier 3 cities and rural areas.
About LocalCircles
LocalCircles takes Social Media to the next level and makes it about Communities, Governance and Utility. It enables citizens to connect with communities for most aspects of urban daily life like Neighborhood, Constituency, City, Government, Causes, Interests and Needs, seek information/assistance when needed, come together for various initiatives and improve their urban daily life. LocalCircles is free for citizens and always will be!
All content in this report is a copyright of LocalCircles. Any reproduction or redistribution of the graphics or the data therein requires the LocalCircles logo to be carried along with it. In case any violation is observed LocalCircles reserves the right to take legal action.