Citizens say better rules and their strict enforcement needed much more than cancellation of hospital licenses
---
Highlights
• 63% say doctors' compensation should be independent of number of procedures conducted or tests prescribed by them
• 88% want rights to seek independent doctor's review on discharge
• 74% want patients to have rights to replace all items used by them in hospitals on discharge
• 53% want all consumables to be billed by hospitals at MRP or lower price
• 93% want doctors to write the name of the salt when prescribing medicines
9th January 2018, New Delhi: India's healthcare system is fragile. Max and Fortis Hospital recently made headlines due to all the wrong reasons. So much so that the Delhi government had to take the harsh step of cancelling their license. An infant pronounced dead by Max hospital was found to be alive later, while Fortis hospital billed a 7-year old dengue patient Rs. 14 lakhs and still could not save her life. According to the reports, Fortis hospital overcharged the little girl's family for every medical equipment by 25 to 1,208 per cent.
The decision to cancel the license of the hospitals has left hundreds of patients in a limbo. Many citizens have criticised the decision and questioned if it was the only possible move for the government to take. To understand citizen perception on the current healthcare system in India, LocalCircles conducted a survey to find out what citizens think about it through an 8-point poll which received more than 55,000 votes. The results showed that instead of cancelling the licenses, the government should make regulations that are oriented towards the citizens and enforce them tightly.
Citizens want better rules & stronger enforcement to fix private hospitals accountability. Closure not a Solution!
The first poll asked citizens what is the best solution for improving accountability of private hospitals. 57% respondents said it is making rules which are citizen oriented and ensuring their strong enforcement. 13% said that all these hospitals whose license is cancelled, should be turned over to the state government to manage, 7% said all private hospitals should be closed permanently and 23% said that heavy financial penalty should be imposed in all such cases.
63% Citizens say a Doctor's compensation in hospital should not depend on number of procedures conducted or tests prescribed by them
The government has made some rules to protect the patient's interest, but they are poorly enforced. Hospitals find ways to play with the rules to increase their profit margins.
The second question asked what should the compensation model of private hospitals for doctors be. 45% said they should be on salary only with strictly no incentives, 29% said they should be on salary plus incentives based on individual contribution, 18% said they should get salary plus incentives based on hospital profitability and 8% could not decide how it should be done.
93% citizens want Doctors to always write name of salt when prescribing medicines
Many citizens had reported that doctors are given financial targets by hospitals and are incentivised every month for achieving them. This leads to doctors unnecessarily prescribing tests and medicines to the patients, thereby increasing their bills by many folds.
Next question asked what should the doctors be doing when it comes to prescribing medicines. 29% said they should only name the salt, 17% said they should name the salt along with the top brand medicine with it, 47% said they should name the salt along with the cheapest medicine with it and 7% said they were not sure what should be done.
53% citizens want all consumables to be billed by hospitals at MRP or lower price
Pharmaceutical companies bribe doctors in form of gifts and holidays so that they prescribe their medicines to the patients, even if there are cheaper alternatives available in the market.
Fourth poll asked how should consumables used for a patient be billed by the hospital. 39% said there should be packages for treatment with a package price that includes all consumables, 53% said it should be basis actual MRP of consumables with services billed separately, 4% said it should be left on hospital's discretion and 4% were unable to decide.
74% citizens want patients to have the right to replace all items used by them in a hospital before discharge
When asked if the patients should be given the right to replace all items they use in a hospital before discharge, 74% agreed with it and 16% disagreed with it. 10% remained unsure.
83% citizens want hospitals to charge same amount for the insurance and cash patients
Sixth poll asked if hospitals should be charging the same amount for a procedure for both insurance and cash patients. 83% agreed with it and 12% disagreed with it.
88% citizens wan the right to seek and independent doctor review at hospital discharge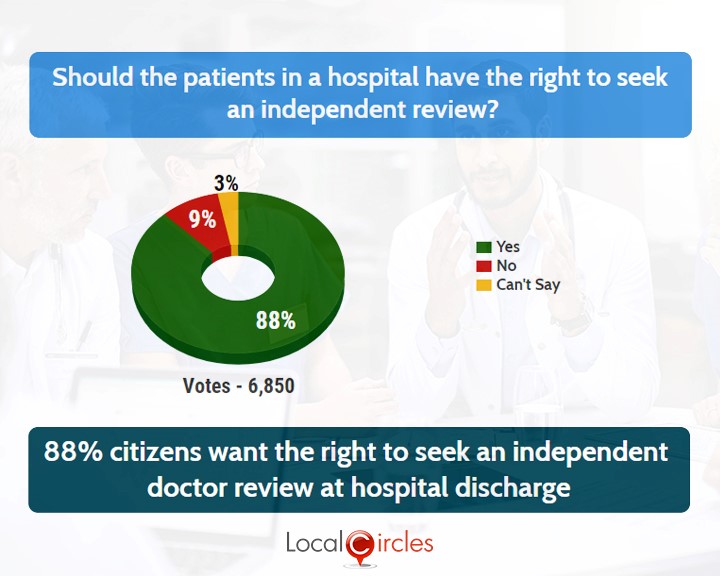 On the question if the patients in a hospital have the right to seek an independent review, 88% responded in an affirmative and only 9% responded in a negative.
81% citizens want Doctor's fee in hospital to be billed directly from Doctor to Patient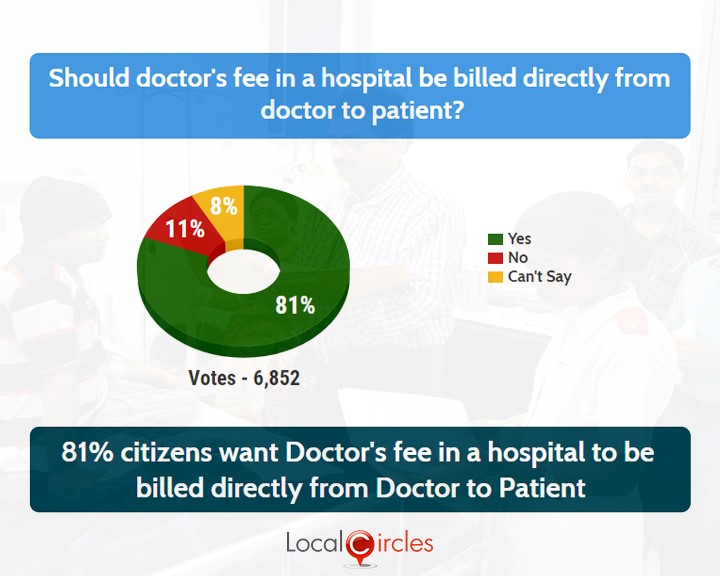 The last poll asked if the doctor's fee in a hospital should be billed directly from doctors to patient. 81% said it was a good idea whereas 11% voted against it.
What citizens want to see private hospital implement the following
The Union Cabinet recently cleared the National Medical Commission (NMC) bill, which looks at replacing the existing apex medical education regulator, Medical Council of India, (MCI) with a new body to reduce corruption and red tape-ism in medical education in the country and give the government a say in fixing fees in up to 40% of seats in private medical colleges. Citizens feel that NMC is a welcome and futuristic move by the government.
Along with making new rules and regulations, NMC should also make sure that they are enforced well so that cases such as Max and Fortis are not repeated in future and innocent lives are not played with just to rake in more profits.
You may also like:
About LocalCircles
LocalCircles, India's leading Community Social Media platform takes Social Media to the next level and makes it about Communities, Governance and Utility. It enables citizens to connect with communities for most aspects of urban daily life like Neighborhood, Constituency, City, Government, Causes, Interests and Needs, seek information/assistance when needed, come together for various initiatives and improve their urban daily life. LocalCircles is free for citizens and always will be!
All content in the above graphics in this report are a copyright of LocalCircles and must be used only in the prescribed format. LocalCircles reserves the right to take legal action against any reproduction or redistribution of this content without explicit written approval of LocalCircles.