Citizens rate Union Budget 7 on 10; Believe infrastructure and spending boosts are positive; say should have delivered more on health, environment and tax exemptions/deductions front
---
● 50% citizens surveyed said more should have been done on healthcare front while 39% surveyed not happy with tax exemption and deductions
● Over 50,000 responses received from citizens located in 337 districts of India
February 3, 2023, New Delhi: In the last full budget before the general elections in 2024, Finance Minister Nirmala Sitharaman has strived to boost growth and help create jobs with a 33% increase in infrastructure spending to INR 10 trillion, which would amount to 3.3% of gross domestic product (GDP). Striving to cut down the fiscal deficit to 5.9% in 2023-24 from 6.4% for the current fiscal year, the budget has slashed subsidies on food, fertiliser and petroleum by 28% to INR 3.75 trillion. However, one of the casualties has been the rural employment guarantee scheme (NREGA) for which the allocation has come down from INR 894 billion in the current fiscal to INR 600 billion, the lowest in five years.
Spending towards both health and education has increased in terms of absolute numbers compared to last year, but reduced marginally as a percentage of overall budgetary allocations. The estimated health outlay for 2023-24 is INR 89,155 crore as against revised estimate of INR 79,145 crore for the current fiscal. In effect, from about 2.2% of the budget spending in the current fiscal, it has been reduced to 1.97% in the new budget. The education sector has received INR 1.12 lakh crore in the Union Budget for 2023-24. Allocation for school education has increased by 8% from INR 63,449 crore in 2022-23 to INR 68,804 crore in 2023-24.
The budget also has several proposals for the benefit of salaried individuals, senior citizens and pensioners. For the common citizen, as against those with an annual income of INR 5 lakh who do not have to pay any income tax in the current regime, the government has proposed to increase the rebate limit to ₹7 lakh in the new tax regime. This means those with annual income of INR 7 lakhs need not invest anything to claim tax exemptions. This may give some relief and more consumption power to the middle-class income group. For pensioners, the finance minister has announced extending the benefit of standard deduction to the new tax regime. Another change in the tax structure proposed is reducing the number of slabs to five and increasing the tax exemption limit to INR 3 lakh which could encourage middle class people to invest and save more for retirement. For those in the high tax bracket, surcharge on annual income above INR 5 crore has been cut to 25% from 37% to boost spending. This proposal would result in a reduction of the maximum tax rate to 39% down from 42.7% currently. Each salaried person with an income of INR 15.5 lakh or more will benefit by ₹52,500. However, for those with high insurance cover, the budget proposed to limit tax exemptions for insurance proceeds. For government employees, in line with the increase in government salaries, the tax exemption limit on leave encashment on retirement is proposed to be raised to INR 25 lakh as against INR 3 lakh currently.
Given that there were great expectations from the budget, coming a year ahead of the government seeking a third consecutive mandate, LocalCircles sought citizens' views on whether Budget 2023-24 met with their expectations. The survey received over 50,000 responses from citizens located in 337 districts of India. 64% respondents were men while 36% respondents were women. 46% respondents were from tier 1, 35% from tier 2 and 19% respondents were from tier 3, 4 and rural districts.
41% citizens rated the budget good or excellent while 28% rated it average
The first survey question asked respondents, "How do you rate Budget 2023-24 on a scale of 5?". Nearly one fourth of the 17,616 respondents to this question rated it 5 on 5 or excellent while 18% rated it between 4 & 5. The breakdown of data shows that 23% rated the budget 5, while 7% rated it 4.5; another 11% rated it 4; another 11% rated it 3.5; 21% rated it 3.5; and 7% rated it 3. Of the remaining respondents, 4% rated it 2.5 or average; 2% rated it just 2; another 2% even lower at 1.5; and still another 14% just 1 while 9 stated "can't say". If the ratings are averaged, citizens rated the budget 3.48 on a scale of 5.
49% citizens surveyed expressed optimism that the budget will "create new infrastructure"; 33% felt it will have positive impact on household spending and livelihood/employment
The second question in the survey sought to understand positives of the budget from citizens and it asked them "What are the key benefits according to you that Budget 2023-24 is likely to drive for India?". Some among the 18,604 respondents to this query chose more than one option. Thus 49% expressed optimism that it will "create new infrastructure"; 33% felt it will boost household spending; 33% also banked hope that it will create new employment and livelihood; 21% are optimistic that it will spur investment; 14% are hopeful of it driving other benefits not listed. However, 14% did not believe that there would be any benefits while 12% chose the "Can't Say" option.
More than one third respondents are not happy with healthcare, education, infrastructure, environment allocations
The final question in the survey sought to understand from citizens about the missed opportunities. It asked them "What according to you are the key areas / opportunities where Budget 2023-24 fell short". Some among the 16,541 respondents choose more than one option. Half of the respondents to this query felt healthcare allocations were not adequate, especially in light of the post COVID situation; 39% are not happy that the tax exemption and deductions weren't increased; 35% feel the allocation for safeguarding environment, especially for the fight against air pollution aren't enough; 22% feel not enough is being done on the education front. 20% indicated other areas; while 9% did not share their views.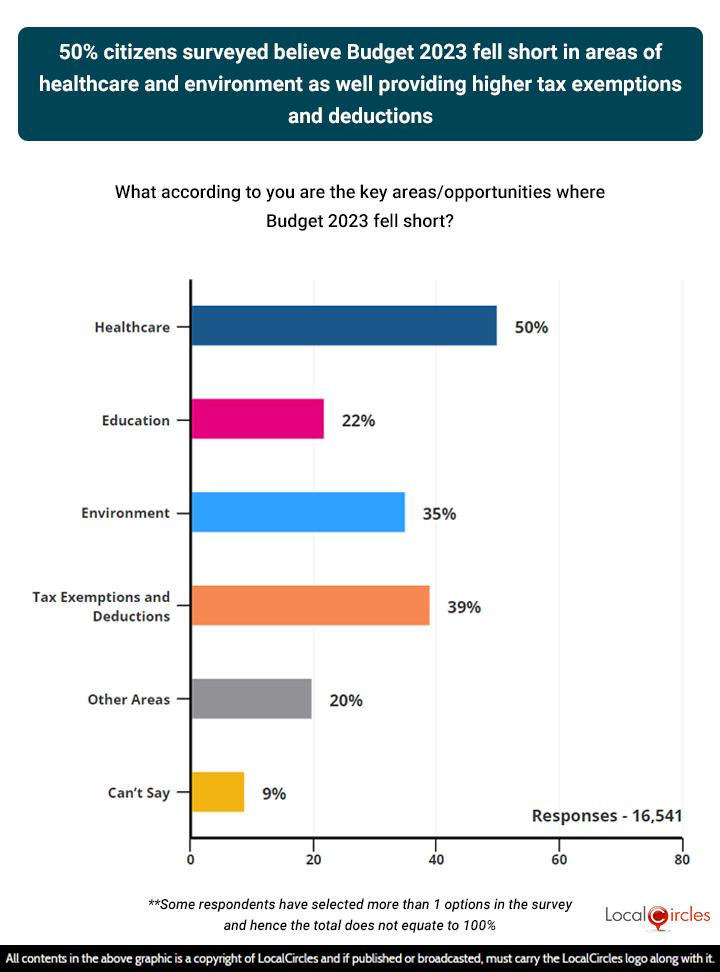 In summary, while it is not possible to please all citizens, healthcare and education could have definitely done with more allocation and attention as it has an impact on India's growth and ability to create jobs and become a hub of manufacturing and services. As the survey shows, 49% citizens are continuing to bank on the Government to "create new infrastructure" via this budget hoping that it will spur growth and employment; 33% feel the direct tax cuts announced will likely boost household spending, especially by the upper middle class and upper class who are likely to benefit the most; A hope the government too is banking on as evident in the 90 minutes speech of the finance minister. Overall, a 3.48 on 5 or a 7 on 10 rating by the public reflects that the budget was an above average budget. The key though according to people is the speed with which these budget announcements translate into impact on the ground and the hope is that the Finance Ministry will drive the various ministries to action rather quickly to show positive impact of Budget 2023 ahead of the 2024 elections.
Survey Demographics
The survey received over 50,000 responses from citizens located in 337 districts of India. 64% respondents were men while 36% respondents were women. 46% respondents were from tier 1, 35% from tier 2 and 19% respondents were from tier 3, 4 and rural districts. The survey was conducted via LocalCircles platform and all participants were validated citizens who had to be registered with LocalCircles to participate in this survey.
About LocalCircles
LocalCircles, India's leading Community Social Media platform enables citizens and small businesses to escalate issues for policy and enforcement interventions and enables Government to make policies that are citizen and small business centric. LocalCircles is also India's # 1 pollster on issues of governance, public and consumer interest. More about LocalCircles can be found on https://www.localcircles.com
All content in this report is a copyright of LocalCircles. Any reproduction or redistribution of the graphics or the data therein requires the LocalCircles logo to be carried along with it. In case any violation is observed LocalCircles reserves the right to take legal action.
Enter your email & mobile number and we will send you the instructions.
Note - The email can sometime gets delivered to the spam folder, so the instruction will be send to your mobile as well