AYUSH cures now available on fingertips for every Indian
• LocalCircles rolls out India's largest AYUSH community with 10,000+ practitioners & experts
• Enables any citizen to seek trusted AYUSH cures on fingertips from other citizens/experts
• Over 5000+ discussions make community a strong repository of AYUSH information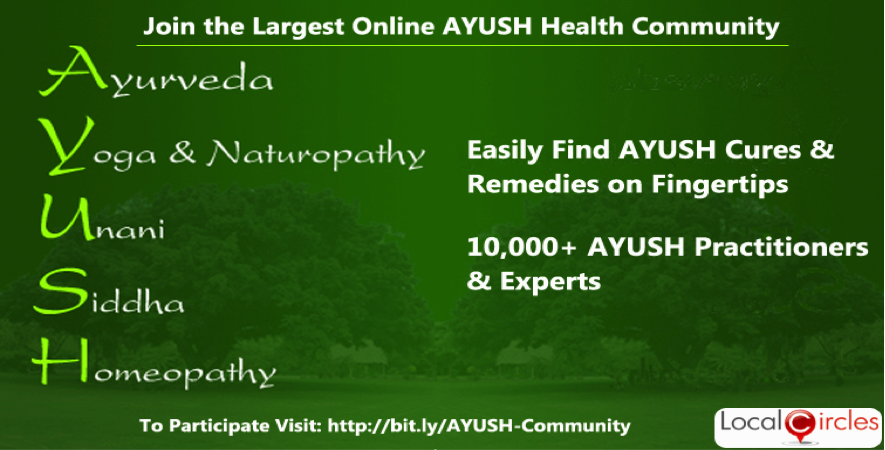 New Delhi, India, February 2, 2016 – LocalCircles (www.localcircles.com), India's leading citizen engagement platform today announced the availability of an AYUSH online community with 10,000 AYUSH practitioners and experts thereby enabling citizens to easily find AYUSH cures and remedies on fingertips.
The community, first of its kind in the world is the largest online ecosystem for AYUSH (Ayurveda, Yoga & Naturopathy, Unani, Siddha, Homeopathy, and other alternative therapies) and enables the common citizen of India to easily find trusted AYUSH information from other AYUSH practitioners and experts.
Over 5,000+ discussions on various subjects have taken place so far and over 30,000 comments and inputs have been received in the community making it a strong repository of AYUSH information and experiences.
"By enabling fast information exchange on smartphones and via computers, this community is a trusted source of alternative health information for citizens", said Sachin Taparia, Chairman and CEO of LocalCircles. "It truly takes AYUSH from being something out there to something that can be practically used in daily life and LocalCircles is pleased to be this enabling platform for AYUSH.
All citizens interested in AYUSH remedies are invited to join the circle via the link below: AYUSH-Community or visit www.localcircles.com and use invitation code – AYUSH
The AYUSH community access is free for all citizens!
About LocalCircles
LocalCircles takes Social Media to the next level and makes it about Communities, Governance and Utility. It enables citizens to connect with communities for most aspects of urban daily life like Neighborhood, Constituency, City, Government, Causes, Interests and Needs, seek information/assistance when needed, come together for various initiatives and improve their urban daily life. LocalCircles is free for citizens and always will be! For more information, please visit: localcircles
Enter your email & mobile number and we will send you the instructions.
Note - The email can sometime gets delivered to the spam folder, so the instruction will be send to your mobile as well