How can India Clean at Night: Action Needed and Inputs
Since 2017, LocalCircles has been creating awareness about moving to Cleaning India at Night. Many of you have participated in these discussions. With this post, we would like to seek your inputs on whether your urban local body has moved to Cleaning at Night. Below is the compilation of your inputs on how India can clean at night and the factors that need to be considered. Kindly review and if you have additional inputs, please share. Also, you may want to share the same with your Municipal Commissioner/Mayor and urge them to take up this initiative.
How can India Clean at Night:
1. Municipal workers could be deployed in shifts like in other industries
2. Modern equipment should be bought to assist in increasing worker efficiency
3. Workers who do the night shift should be given special allowances
4. This process will also optimize utilization of collection resources, with faster collection and transfer
5. The home dustbins could just be kept outside the house at nights for the municipality to clear them
6. The process should be divided in two parts:
i. Cleaning group in Night Time (before 5 am)
ii. Observer & Inspection group inspection before 8.00 am Day time
7. If public reports garbage anywhere in city after 8.00 am then Observer & Inspection group should be held responsible
8. Night shifts should be on a rotational basis
9. Private companies could be hired to assist the Municipality at nights
10. There will be no traffic problems due to garbage collection trucks
11. Home cleaning could be conducted in the second half of the day between 1 pm - 8 pm and place garbage out at night.
12. Offices could clean post closure starting 7/8 pm and place garbage out by 10 pm.
Here are some things that will have to be considered in the implementation:
1. Non-availability of street lights at night in many places
2. Supervising and controlling the workers could be an issue
3. Attitude of officials - Resistance to a new process as it requires deviation from existing routine. Also, it involves night working for some workers
4. Attitude of people - Hard to adopt a new system. At present household garbage is taken away in the forenoon. In new system, garbage will go out at night
5. Households that employ individual part or full time help for cleaning will have to ensure that cleaner is able to adjust their schedule and work from 1-8 pm timings.
more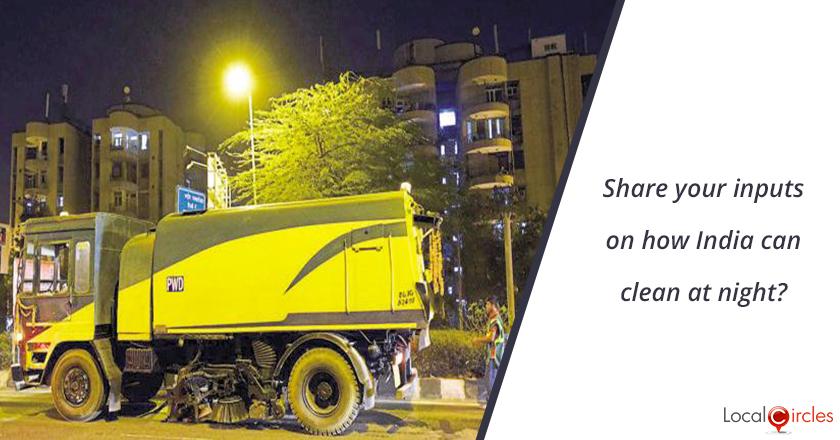 Some rules were made say 50 years back needs drastic change in view of changed circumstances.For example human population and vehicle numbers have increased drastically.I will give one example of BMC.In Mumbai when drains are cleaned the Kachara is left on the roadside for months together,whereas it should be removed immediately.This will keep the road clean.Now with this when vehicles are parked on these places the half of the kachara goes back to the drain.This issue was discussed with Corporator who says if BMC removes wet Kachara it has to spend Rs 300/- crore extra annually.This logic does not hold good in changed circumstances.
more In India, across cities, garbage generation is huge and hence clearing the same in shifts is must and in particular at nights is essential as traffic is less and undisturbed. However, everyone involved in this operation must be sincere as currently it is done in a half-hearted way/manner. Checking squad is hardly seen. Of course citizen also must cooperate and coordinate. Local bodies and especially corporators need to play a vital role. Again, huge investment in this operation is a must with modren machines must be put in play. At the same time, there has to be a mechanism to quick dispoal of the collected garbage.
more
Petty minded comment from Surendra Pai. Instead of condemning the motherland constructive criticism and ways to improve will be useful. It is definitely a good idea to do the garbage clearance work at night.
more In view of the increasing traffic density in our habitats night clearance of all kinds of garbage from municipal dumps, cleaning of road side drains and even repair or new work of services should be undertaken when the traffic is least ; that is night hours. Otherwise such actions during the day hours is unsightly, unhygienic and obstruction to flow of traffic. Such a practice is prevalent in all advance nations.
more Precaution: The illumination at least 100 metres all around the cleaning area shall be temporarily improved to prevent avoidable accidents by motorists passing through the area at the time of cleaning.
Excellent idea. Earlier the effective implementation, better it is.
Today I was discussing with my friends and relatives in great detail about the cleanliness and hygiene in our country vis a vis other advanced countries.
Beginning from the municipal cleaning authorities, all utilities, and public, if every one just co operates and makes his own effort that he/she will avoid making any part of the nation dirty, filthy, or unhygienic, the problem is resolved with little or no extra expenditure. Only conscious effort by every one.
If we can do this, and in the opinion of former US President Barak Obama, "Yes, we can", the nation's average life expectancy will leap frog to another ten (10) years at least.
Everyone will be rewarded by the mother nature.
more