How can India Clean at Night: Action Needed and Inputs
Our circle has been creating awareness about moving to Cleaning India at Night. Many of you have participated in these discussions. As Swachh Bharat campaign of the Prime Minister completes its 5th year, we would like to seek your inputs on whether your urban local body has moved to Cleaning at Night. Below is the compilation of your inputs on how India can clean at night and the factors that need to be considered. Kindly review and if you have additional inputs, please share. Also, you may want to share the same with your Municipal Commissioner/Mayor and urge them to take up this initiative.
How can India Clean at Night:
1.Municipal workers could be deployed in shifts like in other industries
2.Modern equipment should be bought to assist in increasing worker efficiency
3.Workers who do the night shift should be given special allowances
4.This process will also optimize utilization of collection resources, with faster collection and transfer
5.The home dustbins could just be kept outside the house at nights for the municipality to clear them
6.The process should be divided in two parts:
i.Cleaning group in Night Time (before 5 am)
ii. Observer & Inspection group inspection before 8.00 am Day time
7.If public reports garbage anywhere in city after 8.00 am then Observer & Inspection group should be held responsible
8.Night shifts should be on a rotational basis
9.Private companies could be hired to assist the Municipality at nights
10.There will be no traffic problems due to garbage collection trucks
11.Home cleaning could be conducted in the second half of the day between 1 pm - 8 pm and place garbage out at night.
12.Offices could clean post closure starting 7/8 pm and place garbage out by 10 pm.
Here are some things that will have to be considered in the implementation:
1.Non-availability of street lights at night in many places
2.Supervising and controlling the workers could be an issue
3.Attitude of officials - Resistance to a new process as it requires deviation from existing routine. Also, it involves night working for some workers
4.Attitude of people - Hard to adopt a new system. At present household garbage is taken away in the forenoon. In new system, garbage will go out at night
5.Households that employ individual part or full time help for cleaning will have to ensure that cleaner is able to adjust their schedule and work from 1-8 pm timings.
more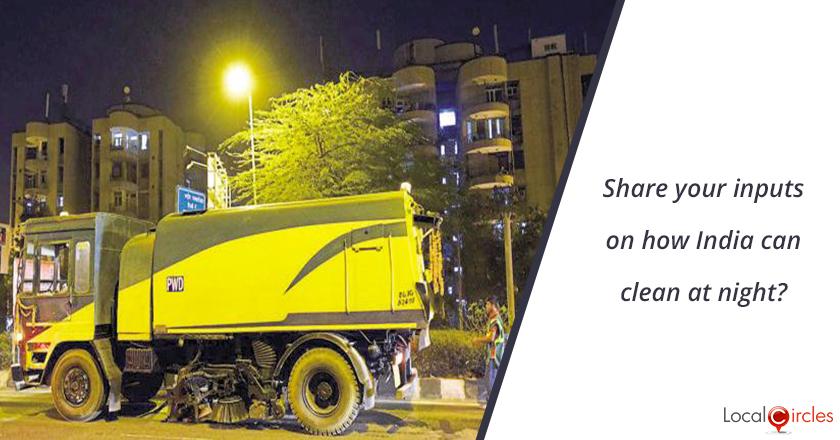 Proposal is Good but 1)Worker's Unions have to agree to do this.2)During night most of the road is parked with cars and other vehicles with the result road sweeping will be difficult.3)Also noise from trucks and the foul smell will disturb sleep of the citizens.4)Reptiles and other animals may also create problems as they can not be noticed easily in the dark.They can bite the sweeping staff.5)Even keeping dust bins out at night will be difficult as most of the servants will be available in day only.If any bins are toppled then it will be hinderence to traffic movement.
more
The LCM for Clean India must have reasons for bringing up this subject repeatedly on this platform. Well, despite the 207 contributions by members of the Circle, I would like to summarise my views as under:
1. Nothing tangible appears to have been achieved over the past five years, which could be flagged as "success".
2. Local authorities/agencies show activity specially before forthcoming elections, viz. in Delhi.
3. The layman in our country yet seems to consider as below their dignity to keep their surroundings clean. I live in Delhi and I notice that streets are littered every day with the same infection as on the previous day.
4. Today, we have the technology to reach out to the masses through the medium of television. LC to please encourage political leaders to show their faces more often on the TV and to propagate and plead the public at large to help make the "swatch bharat abhiyan" a success.
more Not significant and when the truck comes, its very noisy and wakes up the people.
more We may penalise educated people with bad habits to start with.
more
However much you want to clean and do your best as a citizen by not littering, our Literate citizens are not educated. They litter all over spit, throw butts etc. I have seen the most rich travelling in posh cars throwing wrappers out of the car, opening the door and spitting etc. First its important to educate the Literate. We pay tax for Swach BHarat where is all going. This tax is only a money making machine which we tax payers are giving.
more